2018
Each year, we recognize outstanding members of our community through The Graduate School Awards and the Ver Steeg Awards.
2018 McBride Award
Named for Dwight A. McBride, PhD, former Northwestern University Daniel Hale Williams Professor of African American Studies, English & Performance Studies, Dean of The Graduate School, and Associate Provost for Graduate Education from 2010 to 2017, this award recognizes one outstanding graduate student for their contribution of excellence in the area of diversity, service, or engagement -- the strategic priorities McBride worked to foster in the graduate community of Northwestern.
Andrea d'Aquino | PhD Candidate, Chemistry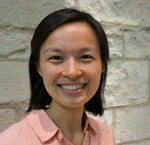 Andrea is a founding member of NU BonD (Building on Diversity), a graduate student-led organization that fosters a community of inclusivity and a diversity of thoughts, ideas, and backgrounds within the Department of Chemistry. She is also a founder and director of HerStory, an outreach event for young females who are curious about science.