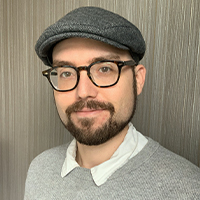 Paul Feller-Simmons
Music
Paul Feller-Simmons is a music PhD candidate in the Department of Music in the Bienen School of Music. He is advised by Linda Austern.
Primarily an early modernist, Paul's work engages with interdisciplinary approaches to Jewish-Christian musical exchanges, music in the Spanish colonies, and musical othering. His dissertation investigates how musical experiences mobilized culture between Jewish and Christian communities and social and territorial borders in seventeenth- and eighteenth-century Northwestern Europe. Bringing together tools from varying fields—music studies, early modern and medieval studies, Jewish studies, social theory, historical anthropology, and philosophy—Paul considers the spaces for cross-cultural exchanges that the performance, composition, economics, and consumption of music opened in the Dutch Republic and the German-speaking lands. His research demonstrates the dynamism and interconnectedness of historical Jewish cultures while shedding light on the musical mechanisms through which their communities would uphold their identities.
Paul's dissertation underscores the agency and joy that music afforded Jewish musicians and audiences in their everyday lives. Yet, he also shows that a fluid musical circulation between Jews and Christians was faced with internal and external tensions with both Jewish and Christian authorities. Paul's work has been supported by awards and grants from the Society for Seventeenth-Century Music and the American Musicological Society. His work on colonial villancicos in Chile was recognized with an honorable mention for the 2023 Otto Mayer-Serra Award. In 2022, he obtained the American Musicological Society Noah Greenberg Award with Cesar Favila for their contribution to the performance of music from nunneries in New Spain.
Paul is also a lecturer at the University of Illinois at Chicago. He holds a bachelor of arts with a concentration in musicology from the Pontificia Universidad Católica de Chile and a master's degree in musicology from Northwestern University. He is also a member of Northwestern's Medieval and Jewish Studies clusters.