Sofyan Ansori (he/him)
PhD Candidate in Anthropology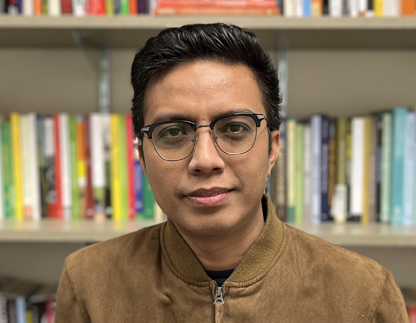 Sofyan Ansori is a PhD candidate in the Anthropology program in the Weinberg College of Arts and Sciences. Before attending Northwestern, Sofyan earned his bachelor's degree in social anthropology at the University of Indonesia, where he also worked as an associate researcher and lecturer. His current research examines fire governance in Indonesia, focusing on the ways in which environmental interventions are embraced and/or contested by both local people and state actors.
How would you describe your research and/or work to a non-academic audience?
I would say that I am studying relationships between humans and fires through how Indigenous Peoples in Indonesia perceive their traditional fire uses, recurring forest and land fires, and various kinds of environmental and developmental interventions introduced by the state as part of its fire governance. By centering Indigenous experience within current climatic conversations, my project addresses a pressing humanistic concern of what it means to be people whose thoughts and actions, as well as life and moral ecology, are closely knitted with vibrant fires.
Tell us what inspired your research and/or work.
The pursuit of my PhD training was inspired by catastrophic fires I experienced alongside the Ngaju people, an Indigenous community in Central Kalimantan, Indonesia. In 2015-2016, I worked as a local consultant for a fire research collaboration led and funded by U.S. institutions. My investigations into the human dimensions of fires initially informed me about various types of Ngaju fire activities within the peatlands and forests. This work eventually unveiled the repression this Indigenous community endured because of their traditional fire practices.
What is the biggest potential impact or implication of your work?
For decades, Western-induced narratives have been assigning a moral verdict that traditional fire uses across the world are careless and malicious to environments. This science is often translated into anti-fire policies aimed at transforming Indigenous agricultural practices. Indigenous people are seduced into ending their traditional fire practices and embracing the market economy as the only answer to the environmental crisis. Current climate agreements that rely on carbon calculus reinforce such a treatment to Indigenous communities through anti-fire governance at the local level. By interrogating these climate injustices and showing multiple possibilities of human/fire relationships, my project can potentially inform and shift existing approaches to fire and climatic problems in Indonesia and beyond.
Why Northwestern?
Primarily because my scholarship program, the Arryman Fellows and Scholars Program, is hosted by Northwestern University. Honestly, I did not know much about Northwestern back then. But now, I am beyond grateful to be part of this brilliant institution.
How do you unwind after a long day?
I play FIFA with my officemate or livestream Soccer games. But mostly, I spend time with my wife and daughter. I do not think I could function without them.
Tell us about a current achievement or something you're working on that excites you.
I did not expect that I would be awarded the 2022-2023 SSRC Mellon International Dissertation Research Fellowship. For me, this grant means a lot because it not only provides funding for my project but also recognition of my scholarship. As an international grad student who is constantly anxious about the worth of my presence and work within academia, this is relieving.
Tell us about a time when things did not go as you planned, what did you learn?
PhD life is full of dramatic twists, and we just need to be nice to ourselves when things do not go as expected. My plan, like many other students, was ruined by Covid-19. During that gloomy period, I learned that taking things slow was surprisingly helpful. I realized that there are so many different ways we can take to make this PhD journey meaningful.
What are you most proud of in your career to date?
I think I am just happy that my little family and I have made it this far. I also am proud to share this journey with wonderful and caring colleagues, friends, and professors – a reminder that PhD training is indeed a collective endeavor.
Published: May 17, 2022
---
If you know a graduate student, postdoctoral trainee, graduate faculty member, staff member, or a member of our TGS alumni population who would make a great candidate for our TGS Spotlight Series, please complete this brief TGS Spotlight Series Nomination Form.