Jacob Kelter (he/him)
PhD Student in Computer Science &Learning Sciences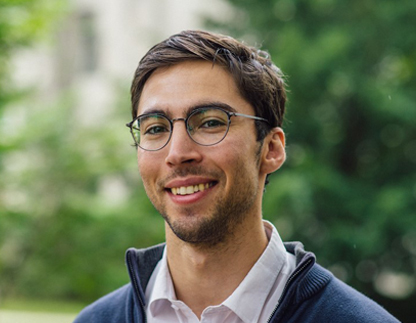 Jacob Kelter is a PhD candidate in the joint Computer Science and Learning Sciences Program through the School of Education and Social Policy and the McCormick School of Engineering. His research interests lie in creating and studying computational tools for making sense of complexity in the world. Jacob's dissertation research focuses on using computational modeling in science education, currently in the context of materials science and engineering. His work includes collaboratively redesigning the introductory materials science and engineering course to make central use of computational agent-based modeling and studying the effects of the redesign on student learning and understanding of complex phenomena. Jacob is a Presidential Fellow, the most prestigious fellowship awarded to graduate students by Northwestern. 
How would you describe your research and/or work to a non-academic audience?
I create computational models for making sense of complex systems and then study people learning with those tools.
A simple example is a model of a forest fire. We model the forest as a grid, like a checkerboard. Each spot is either empty or has a tree, and trees can be on fire or not. Then, the simple "update rule" is that trees on fire light their neighbors on fire and then burn out. From this simple model you can understand many aspects of the spread of forest fires. Models with different entities and rules can be used to understand all sorts of complex systems ranging from physical things like materials to social systems like economies.
My work involves making models like this, designing educational curricula that use them, and then studying how people learn with them.
Tell us what inspired your research and/or work.
As an undergraduate I took a course with my current adviser on computational modeling. In that course I saw a model on a materials science phenomenon called "grain growth." I had already taken an entire course on grain growth in the materials science department and never really felt I understood it. After playing around with the computational model for about an hour, I felt I understood grain growth for the first time. That was a really powerful learning experience for me, and it inspired me to want to help other people have similar experiences.
What do you find both rewarding and challenging about your research and/or work?
I love to learn about many different types of complex systems, including the human mind learning about other complex systems! Many aspects of research are challenging, but I think the hardest part for me is framing the research questions.
What books are on your bedside table?
Currently on my table: Being You: A New Science of Consciousness by Anil Seth, Models and Modeling: Cognitive Tools for Scientific Enquiry by Myint Swe Khine and Issa M. Saleh, Education in a Time Between Worlds by Zachary Stein, Sister Outsider: Essays and Speeches by Audre Lorde, Queer: a Graphic History written by Dr Meg-John Barker and illustrated by Jules Scheele, The Hebrew Priestess by Jill Hammer and Taya Shere, and Pirkie Avot with three medieval commentaries in Hebrew.
What did you originally want to be when you grew up?
A scientist
What advice would you give your younger self or someone considering a similar path?
Take as few lecture-based courses and as many project-based and discussion-based courses as possible. But also, minimize the number of courses you take and focus on working on real things.
Published: June 7, 2022
---
If you know a graduate student, postdoctoral trainee, graduate faculty member, staff member, or a member of our TGS alumni population who would make a great candidate for our TGS Spotlight Series, please complete this brief TGS Spotlight Series Nomination Form.