Claire Mackevicius (she/her)
Claire Mackevicius (she/her)
PhD Candidate in the Department of Human Development and Social Policy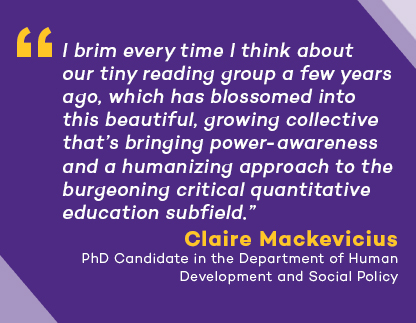 Claire Mackevicius is a PhD candidate in the Department of Human Development and Social Policy in the School of Education and Social Policy. Her dissertation, "Stealth Inequities in K-12 Public Schools: Revealing How Fundraising PTAs Entrench Hierarchies and Exploring Pathways Toward Equity," interrogates the role that this private funding can play in sustaining racial and economic hierarchies in public K-12 schools. In ongoing collaborations, she explores how partisan voting patterns relate to local decisions on school resource distribution, studies ways that grantmaking might push towards greater racial equity, and theorizes on how school districts enact power along race, place, and space dimensions over time.
How would you describe your research and/or work to a non-academic audience?
Put simply, I "follow the money." Across projects, I think about how people and groups with resources and privilege make decisions and use their power. Sometimes they act in ways that reinforce their status, but sometimes—and these are moments I'm especially interested in—they act in ways that challenge the status quo. In my dissertation projects, I study private money at public K-12 schools (think Parent Teacher Organizations and "Friends Of" groups) and how it reinforces economic and racial hierarchies. In other collaborations, I think about consequential distribution decisions. Some projects of mine focus on public dollars that school boards allocate across schools, while others delve into private resources granted by large foundations. My work uncovers how unofficial and often unseen resources reinforce agendas and entrench inequities, and I also aim to surface serious possibilities and pathways toward challenging those inequities.
How do you unwind after a long day?
when a day feels too long and jam-packed
my to-do list's me 'gainst a wall backed
to a ditty i turn
levity i don't spurn
penning rhymes keeps my headspace intact
What books are on your bedside table?
I've always got at least a few poetry collections, a novel, and that aspirational nonfiction I won't ever finish (at least not before bed). Right now, I'm returning and returning and returning to wisdom, brilliance, and inspiration from a stack that includes Ada Limón's The Hurting Kind, Ross Gay's Inciting Joy, and Alexis Pauline Gumbs's Undrowned: Black Feminist Lessons from Marine Mammals. I just finished Gabrielle Zevin's Tomorrow, and Tomorrow, and Tomorrow—a read which I sense would resonate with everyone. But now that I'm finished, I'm ready for more recs!
How would your closest friends describe you?
C: caring, collaborative, compassionate, committed, community-minded, conscientious, creative
L: loving
A: activist, all-in, assiduous
I: intentional
R: reliable
E: eater
I: intellectual
S: selfless, silly, soccer fan, steadfast, supportive
Tell us about a current achievement or something you're working on that excites you.
I'm super excited about a project I'm working on with fellow HDSP PhD students Phoebe Lin and Sheridan Fuller. We're evaluating Evanston's Guaranteed Income pilot program, which distributed this past December the first of twelve monthly $500 payments to 150 community members. While traditional evaluations might involve just a randomized controlled trial to estimate the average effects of this sort of program for participants—and we are conducting that type of randomized control trial (RCT)—I'm most excited about our qualitative process evaluation arm. We're following and charting decision-making, funding, and political threads to better understand pathways from pilot to policy.
What are you most proud of in your career to date?
I am especially proud to be part of the organizing team of "Quant for What?", along with fellow HDSP PhD candidate Sebastian Castrechini, Dr. Shanyce L. Campbell (University of Pittsburgh), Dr. Heather McCambly (University of Pittsburgh), Dr. Sarah Peko-Spicer (American Institutes for Research), and Dr. Cora Wigger (Elon University). Last year, we gathered an initial cohort of 40 people from around the country to plant our dreaming seeds of what quantitative paradigms for antiracist transformation are possible to push toward. We are especially focused on critical approaches to quantitative educational research. This year, we're spreading our roots as we nourish our collective growth in movements pushing margins—and recentering expectations—of entrenched and dominant approaches that can be so harmful. I brim every time I think about our tiny reading group a few years ago, which has blossomed into this beautiful, growing collective that's bringing power-awareness and a humanizing approach to the burgeoning critical quantitative education subfield.
Published: April 18, 2023

---
If you know a graduate student, postdoctoral trainee, graduate faculty member, staff member, or a member of our TGS alumni population who would make a great candidate for our TGS Spotlight Series, please complete this brief TGS Spotlight Series Nomination Form.