Regalia
Regalia is required for all Northwestern ceremonies. The regalia ordering system is managed by the University's Commencement Office. You can order master's or PhD regalia through the University's Commencement website. The deadline to purchase regalia to be shipped to your home or preferred mailing address is May 16, 2021.
For MFA and PhD student eligible for The Graduate School's hooding ceremony:
MFA graduates will purchase the master's package for $79.98 plus shipping, which includes a cap, gown, tassel with signet, and hood. The regalia may be kept or recycled. 
PhD graduates will purchase the doctoral package, which includes a tam, gown, tassel with signet, and hood.
PhD graduates may purchase either the "keeper" gown doctoral package for $122.98 plus shipping (which may be kept or recycled) or the finer-quality academic regalia for $945 plus shipping.
Due to COVID-19 restrictions, there is no rental option available this year.
No additional accessories are required to participate in the hooding ceremony.

Please note: the stole option is worn only by bachelor's degree recipients in lieu of a hood.

Purple face masks to match the regalia will be provided to graduates when they arrive on-site for the hooding ceremony.
Differences Between Keeper Regalia Package and Finer-Quality Regalia Package
Please note that the keeper regalia package meets the traditional requirements for doctoral regalia at Northwestern. However,

 the fabric is more lightweight than the finer-quality regalia. The keeper regalia is intended for one-time use, has open sleeves, and has a removable tassel. It does not have embroidered school seals on the panels. It is sized generally according to the weight and height information you provide.

The finer-quality academic regalia is intended for use for the duration of your academic career. It is made with higher-grade fabric that is dry clean only. It has bell sleeves and embroidered school seals on the panels. The tassel is sewn onto the tam. It is custom-made according to the measurements you provide. 
Graduate Students with Financial Need
For graduate students with financial need, please complete this form managed by the Commencement Office. The Commencement Office will email you directly to confirm your eligibility and provide further instructions. Please complete your application by Friday, April 30 for full consideration. If you have questions about this form or about financial assistance for regalia, please contact the Commencement Office at commencement@northwestern.edu or 847-491-3600.
Gown
Please note: these details describe the finer-quality academic regalia package.
The gown body is purple with black velvet front panels softly curving around the neck and sweeping down the length of the gown. A special Northwestern University "1851" embroidered emblem is placed at chest level on each of the front panels. Each of the purple double bell sleeves has three black velvet sleeve chevrons. The gown has a pocket slit on the wearer's right and a zipper closure.
Hood
The hood is standard doctoral style with a black shell, a velvet trim, and a purple satin lining with a gold satin chevron.
MFA graduates wear a brown hood while PHD graduates wear a dark blue hood.
Cap/Tam
MFA graduates wear a traditional cap while PhD graduates wear a tam.
The tam is a four-corner style cap in black velvet accented with a gold metallic tassel.
Hooding instructions
Faculty hooders may download this diagram with detailed hooding instructions.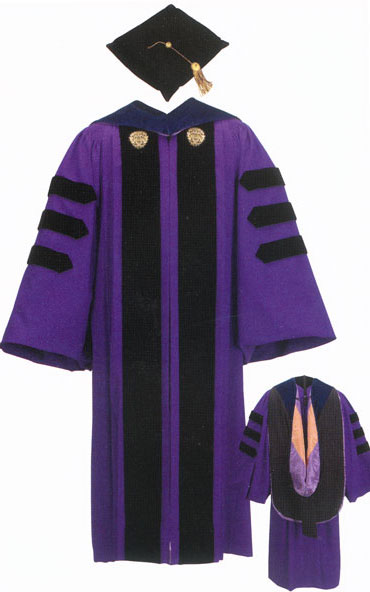 Last Updated: May 12, 2021.