Miriam Petty
Associate Dean for Academic Programs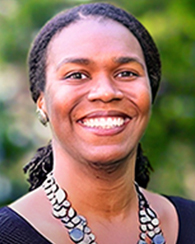 Contact Information
Miriam Petty joined The Graduate School in Fall 2021 as the Associate Dean for Academic Programs at The Graduate School. She is an associate professor in the Department of Radio/Television/Film in Northwestern's School of Communication, and a former director of graduate studies for the Screen Cultures doctoral program. She serves as affiliate faculty in Performance Studies, African American Studies, and Gender and Sexuality Studies. Dr. Petty writes and teaches about race, stardom, performance, reception, adaptation, and genre and is especially interested in the history of African American representation in Hollywood film.
Her first book, Stealing the Show: African American Performers and Audiences in 1930s Hollywood (University of California Press) explores the complex relationships between black audiences and black performers in the classical Hollywood era. Stealing the Show has been awarded the Society for Cinema and Media Studies Best First Book Award for 2016–17. She is currently at work on a book manuscript examining media mogul Tyler Perry's productions and his African American audiences' nostalgic investments in such cultural forms as folktales, music, literature, and religious practice.
At Northwestern, Dr. Petty has won awards for her mentorship and pedagogy. She was named a Galbut Outstanding Faculty Mentor by the School of Communication in 2017, and a 2018-2021 Charles Deering McCormick Professor of Teaching Excellence by the Office of the Provost.
An academic with a longstanding commitment to public scholarship, Dr. Petty is also an avid producer of public programs, including film series and retrospectives. Iin the summer of 2021, she was appointed to the National Film Preservation Board, a body that serves the Library of Congress, and "works to ensure the survival, conservation, and increased public availability of America's film heritage."
Dr. Petty received her PhD from Emory University's Graduate Institute of the Liberal Arts. Before coming to Northwestern, she taught at Rutgers University and Princeton University.