Radhika Ramakrishnan (she/her)
Radhika Ramakrishnan (she/her)
PhD Candidate in the Department of Economics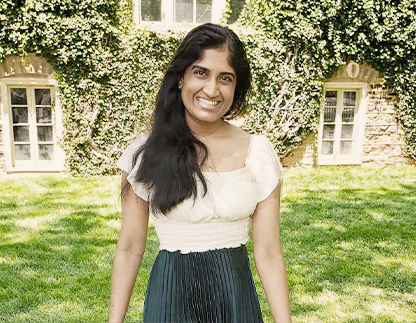 Radhika Ramakrishnan is a PhD candidate in the Department of Economics in the Weinberg College of Arts and Sciences. She is currently researching market concentration in the healthcare industry as well as how social factors affect health outcomes.
How would you describe your research and/or work to a non-academic audience?
I work on economic research related to healthcare and health outcomes. Some of my work focuses on consolidation in healthcare markets, while other work focuses on health is impacted by governmental policies and social factors.
Tell us what inspired your research and/or work.
I really enjoyed the health economics graduate course sequence in the Economics Department here at Northwestern. Health is of such fundamental importance to everybody, and I felt inspired to think about how economics could improve the markets for healthcare and, more broadly, how economics can help us understand health.
 Whom do you admire in your field and otherwise, and why?
In my field, I most admire people who connect their expertise to issues around the world. It seems incredibly impactful to be at the cutting edge of knowledge in economics and to be able to share this knowledge.
What do you find both rewarding and challenging about your research and/or work?
I find the opportunity to expand the frontier of scientific understanding extremely rewarding! I also love working with passionate, knowledgeable, and supportive colleagues. I'd say the biggest challenge of research is being able to handle the uncertainty of long-term projects. But at the same time, uncertainty goes hand in hand with the opportunity for discovery!
How do you unwind after a long day?
I love to make art! It's so inherently rewarding and a lovely opportunity for expression and engagement with the world. I also find it complements the creative/innovative aspects of doing research.
What advice would you give your younger self or someone considering a similar path?
The advice I'd give is that it's important to find a balance between achieving your goals and enjoying the path to get there.
Published: September 12, 2023
---
If you know a graduate student, postdoctoral trainee, graduate faculty member, staff member, or a member of our TGS alumni population who would make a great candidate for our TGS Spotlight Series, please complete this brief TGS Spotlight Series Nomination Form.