Jack Garigliano (he/him)
PhD Candidate in the Department of Political Science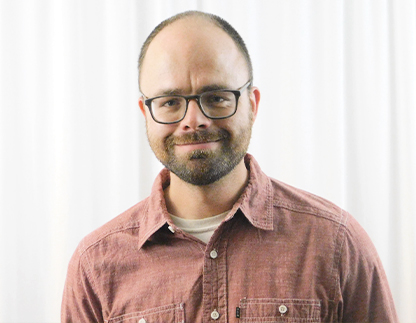 Jack Garigliano is a PhD candidate in the Department of Political Science in the Weinberg College of Arts and Sciences. His interests include political economy, political groups and movements, and inequality. Jack's dissertation topic explores how continuing changes in the nature of labor impact our encounters with and participation in American political life.
How would you describe your research and/or work to a non-academic audience?
I'm interested in the political implications of changes to the nature of work. Generally speaking, the United States tries very hard to make sure that working-age adults receive health, retirement, and other social benefits through an employer rather than through the state. In practice, this has created a labor market that is highly divided between those who get some minimum standard of benefits through their job and those who either get less generous public support or no support at all.
But jobs have also become more precarious over time. Even middle-income positions tend to be less stable now than they were fifty years ago. In lower-income positions, working conditions are worsening even as the costs of health care, housing, and other necessities continue to rise.
My dissertation project focuses on how these changes are affecting political attitudes and behavior over the long term, either within the span of an individual's working life or between generational cohorts. When jobs become less reliable as a source of private support, do attitudes towards public programs improve, or does competition over private goods intensify? When working conditions grow worse, do people become disaffected by the political system, or are there cases where they are more likely to engage in some form of political action as a response? And given racial segregation of occupations and gendered divisions of labor at work and at home, how do these processes differ by race and gender?
What have been some of the most memorable twists and turns of your career?
After getting my undergraduate degree, I didn't have a strong commitment to any particular career track. This was partly because the number of positions in the areas I was interested in (journalism, media, or anything that involved writing or editing of some kind) was plummeting, so I was glad to take what I could get. Eventually, I settled into a somewhat more stable position programming news media for Microsoft, but there were plenty of twists along the way. One of them was a job at a startup that posted memes, especially the kind that feature cats arranged in humorous positions, captioned in Impact Bold font with poorly spelled phrases. If there's an image that was posted to the internet during my time working there, there's a good chance I've seen it. I can't say I've found much use for that little reservoir of knowledge, though.
In some sense, this work history likely informed my research interests later in graduate school, but it's important to stress that toward the end of this period, I was privileged enough to receive good pay and benefits when employed. More commonly, precarity only compounds the difficulties posed by inadequate pay and substandard working conditions, so what I'm interested in extends to experiences outside of my own particular slice of the labor market.
Why Northwestern?
Northwestern has been a great place to learn and grow over the last several years. I've found the faculty to be supportive of a wide range of research questions, and there's a culture of openness to whatever set of methodological approaches best fits the research question, rather than forcing the questions to fit the accepted methods. Northwestern is also a great fit for my more substantive research interests, which draw on an intersection of politics, society, and economy that isn't always easy to find in the discipline.
My adviser, Dan Galvin, is wrapping up a book on evolving forms of worker organizations, or "alt-labor," which is important for understanding how labor-based organization and strategy might form when union density in the United States is so low and barriers to expanding formal union coverage are so high.
Chloe Thurston also has a forthcoming book on the politics of debt and has organized some great workshops over the last couple of years on the interplay between the American political economy and social hierarchies defined by gender and race. Overall, I'm grateful to be in the program and couldn't imagine a better fit.
How do you unwind after a long day?
I read to my four-year-old. "Unwind" is probably not the most accurate way to describe caring for a young child, but between school and childcare I don't have as much time for unwinding in the traditional sense. Still, I consider myself lucky that two of the things that dominate so much of my life right now are each so rewarding in their own different ways.
What books are on your bedside table?
Matilda. Mr. Wolf's Class. Through the Looking-Glass. Mercy Watson to the Rescue. Did I mention I have a four-year-old? If and when I get to the point where I can read books again that aren't related to family or work, I'd like to finish the rest of Elena Ferrante's Neapolitan novels.
What are you most proud of in your career to date?
Balancing work and family can already be a challenge, but doing it while commuting from a different city adds an entirely different set of obstacles, and I'm glad to have made it through the most difficult parts. I live in Milwaukee, Wisconsin, where my partner has a full-time job, so to get to Northwestern's campus in Evanston I need to commute 80 miles to the south.
As is true in so much of the United States, transportation options are limited: There's an Amtrak that runs between both cities, but it doesn't make any stops near Evanston, so I drive south until I reach the northernmost Metra stop and try to get work done on the train for the rest of the commute. I've had to juggle my schedule to minimize the number of days per week that I'm on campus while also making sure that those days coincide with the days that we have childcare covered during working hours. This was most difficult during my second year when I was still taking coursework while also beginning my TA duties, but now that coursework is over and my daughter is starting elementary school, it's much easier. I'm grateful for my partner's support through all this, especially during that second year.

Now that I've wrapped up my coursework and prospectus, it's also gratifying to reach other smaller milestones on the road to the dissertation project. I've just had my first solo-authored article accepted at a journal and have served as a reviewer for several rounds of submission at another journal over the last few months. It's also been fun meeting others interested in the same issues at the handful of conferences and workshops that I've been able to attend. In general, exploring this particular corner of the world has been rewarding so far.
Published: September 19, 2023
---
If you know a graduate student, postdoctoral trainee, graduate faculty member, staff member, or a member of our TGS alumni population who would make a great candidate for our TGS Spotlight Series, please complete this brief TGS Spotlight Series Nomination Form.