Diana K. Elhard (she/her)
Diana K. Elhard (she/her)
PhD Candidate in the Department of Political Science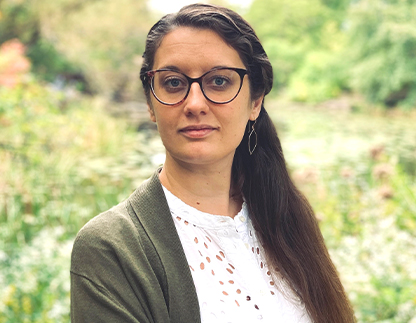 Diana K. Elhard is a PhD candidate in the Department of Political Science in the Weinberg College of Arts and Sciences. Her dissertation examines climate finance bodies within the United Nations Framework Convention on Climate Change. She is interested in global environmental politics, international organizations, and qualitative research methodologies. Diana has been a recipient of the Buffett Institute Dissertation Research Travel Award, the Department of Political Science David Minar Memorial Summer Award, and a TGS Summer Language Grant.
How would you describe your research and/or work to a non-academic audience?
I study international governance processes related to climate change and global climate finance, and since the onset of the COVID-19 pandemic, many meetings have incorporated virtual participation options. As part of my research, I am studying how virtual technologies affect treaty negotiations and related deliberations.
Tell us what inspired your research and/or work.
I have been motivated to better understand international responses to climate change since my undergraduate career. My undergraduate honors thesis focused on the Nansen Initiative, an international endeavor aimed at responding to climate-induced migration. As part of this research, I had the opportunity to travel to France to attend the UN Climate Change Conference (COP21), the meeting of the United Nations Framework Convention on Climate Change (UNFCCC), where the Paris Agreement was agreed. This sparked my interest in global governance as a field of research and, in part, led to my current research interest in global governance and climate finance.
What do you find both rewarding and challenging about your research and/or work?
Climate change is a difficult topic to study and research. The impacts are felt every day across the world, though disproportionately. When I tell people about my research, nearly all responses fall into two camps: 'wow, that work matters so much' or 'wow, that must be really upsetting'. In reality, my work is both of these things every day.
I believe that understanding the process of global governance around climate solutions is critical. It is rewarding to think that my work might make even a small difference in how international climate finance needs and allocations are determined. However, in the process of studying this, I see a lot of stagnation, delay, and inaction by powerful people and states. As a researcher, this is increasingly frustrating and challenging as the impacts of climate change become more frequent and increasingly dire.
How do you unwind after a long day?
Typically, to unwind, I enjoy baking or watching soccer. I especially enjoy baking classic comfort foods and sharing them with others. But every once in a while, I enjoy attempting something more challenging, like croissants or eclairs. Since moving to Chicago in 2019, I am also a big fan of our National Women's Soccer League team, the Red Stars. I am always excited to watch the USA National Team as well and I enjoyed watching the 2023 World Cup.
What books are on your bedside table?
I try to balance my non-research reading with pop-culture books related to climate change and fiction that has nothing to do with climate change. Currently, I am reading It's Not Too Late: Changing the Climate Story from Despair to Possibility by Rebecca Solnit and Thelma Young-Lutunatabua.
Tell us about a current achievement or something you're working on that excites you.
Last year, Northwestern had the first campus-wide call for delegates to attend the annual UNFCCC meeting, COP27, in Sharm El-Sheikh, Egypt. I was able to utilize my previous experience attending UNFCCC meetings to assist this delegation in training and preparing for their time in Egypt as a Climate Change Initiatives Graduate intern.  It was exciting and hopeful to meet colleagues from across Northwestern who are pursuing meaningful work on climate or environmental issues.
Published: August 29, 2023
---
If you know a graduate student, postdoctoral fellow, graduate faculty member, staff member, or a member of our TGS alumni population who would make a great candidate for our TGS Spotlight Series, please complete this brief TGS Spotlight Series Nomination Form.