Science Policy Outreach Taskforce SciPol Symposium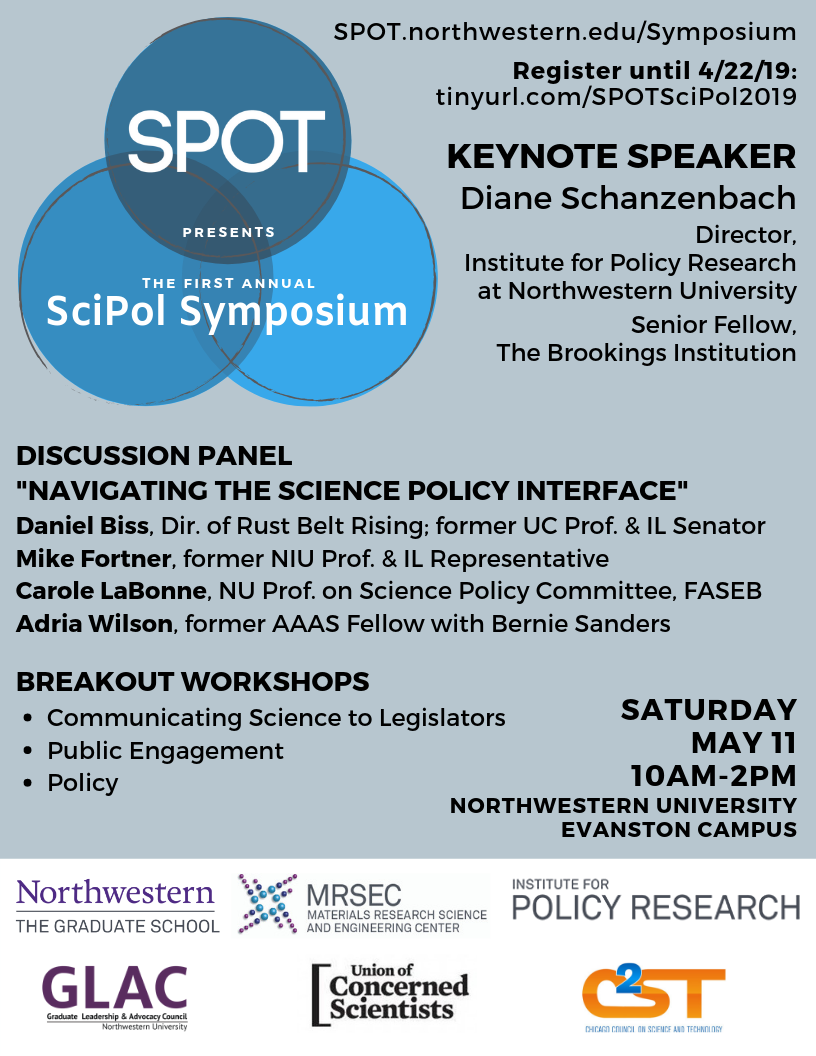 The Science Policy Outreach Taskforce at Northwestern University is excited to organize its first annual SPOT SciPol Symposium! If you would like to learn more about careers and activities at the interface of science and policy while connecting with others who share these interests, then this is the symposium for you.
The SPOT SciPol Symposium will take place on Saturday, May 11 from 10:00 AM - 2:00 PM on the Northwestern Evanston campus (more details on location will be announced soon). The program consists of a keynote address and a panel on the interface of science and policy with experts who will share their experience, career paths, and diverse expertise in this area. Speakers include Diane Schanzenbach, Director of NU's Institute for Policy Research and Senior Fellow at the Brookings Institution; Daniel Biss, Director of Rust Belt Rising and former Illinois state senator and University of Chicago faculty member; and more. Please see the attached flyer for more details and visit their website.

All postdocs are invited to participate! To keep the event as engaging and productive as possible, they are capping the symposium attendance at fifty participants. They will work to ensure that attendees represent a broad range of STEM disciplines, backgrounds, institutions, and career stages. If you would like to join, apply HERE.
Please email spotforcenu@gmail.com with questions!
Categories: STEM