Claudia Kinahan
Interdisciplinary PhD Student in the Department of Theatre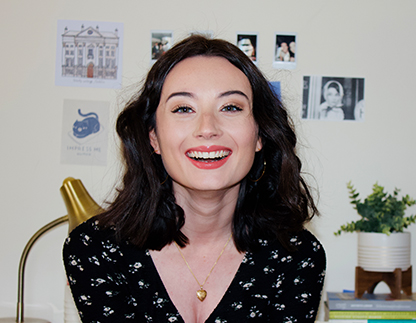 Claudia Kinahan is an Interdisciplinary PhD student in Theatre and Drama in the Department of Theatre in the School of Communication. Her research explores intersections of performance, technology, and gender by examining "virtual women" (i.e., robots and virtual characters), how these technologies are performing 'woman' and femininity, and how this intersects with questions of labor. Claudia was recently named the recipient of the Herman Diedrich and Richard Johnson Families Scholarship from the School of Communication. 
How would you describe your research and/or work to a non-academic audience? 
Have you ever noticed that so many cyborg bodies in media, popular culture, and even our everyday lives are gendered female? From eighteenth-century mechanical automata, to the Bionic Woman in the 1970s, to contemporary feminized digital assistants like Alexa and Siri, there has been a historically consistent gendering of new media technologies as female. By virtue of the human-computer interaction that emerges from these successful performances of 'woman', I argue that these virtual women are assimilated into gendered practices of care and aesthetic labor that have ramifications for how we view and treat women in contemporary society. 
What have been some of the most memorable twists and turns of your career? 
When I started my bachelor's degree, I didn't even know what a PhD was––so sometimes I look back and think, wait––how did I get here?! Up until I started graduate school I was working as a freelance director, writer, and actor in Dublin, Ireland. I never expected to move to the USA and pursue academia, but sometimes you just have to trust the path that's calling you! 
Tell us what inspired your research and/or work. 
Born in 1995, I guess I'm a digital native, so I've had an interest in technology from a young age. My undergraduate thesis explored the relationship between performance and technology, and I knew I wanted to pursue that further. Around the time I was applying for my PhD, my best friend shared an article with me by Rachel Withers titled, "I Don't Date Men Who Yell at Alexa". Withers details how she broke up with a guy she was dating because she was repulsed by the way he aggressively spoke to Alexa, speculating that one day he would speak to her in the same manner. I was so fascinated by the article and felt that there was something there worth pursuing in an academic context. How are the ways we interact with virtual beings changing the way we live and treat others? Hopefully by the end of my dissertation I'll have found out! 
What is a mistake you have learned from in your career? 
As I've gotten older, I've learned to trust my gut more. You can seek all the counsel in the world from others, but at the end of the day only you know what's best for you––sometimes an opportunity, decision, or path can seem ideal, but that's not always the case. Now, I always check in with myself and ask, "How is this serving me?" 
Whom do you admire in your field and otherwise, and why? 
I really admire the work of Dr. Jennifer Parker-Starbuck, Dr. Sarah Bay-Cheng, and my previous adviser, Dr. Matthew Causey. Collectively, these scholars beautifully exemplify the importance and relevance of interdisciplinary performance and technology research, and I admire how they have forged a pathway for young scholars like me to develop the field further. 
What do you find both rewarding and challenging about your research and/or work? 
One of the most challenging aspects of my research is how quickly it evolves––technology is constantly changing, and it can be hard to keep up when there's always a new app or device coming to market. In saying that, one of the most rewarding things about my research is that it's relatively unchartered territory, so I feel very fortunate to be able to contribute to this developing field and advocate for theatre, drama, and performance as powerful allies in interdisciplinary study. 
What is the biggest potential impact or implication of your work? 
My hope is that my research will emphasize that gendering nonhuman technologies is not an innocuous practice. Rather, the virtual and the material are intrinsically linked, and this practice has profound material ramifications for how we view and treat women in society. 
How do you unwind after a long day? 
On the weekdays, I like to end the day by doing some sort of exercise, whether it's a run, walk, or yoga, in addition to some meditation and writing in my journal––but sometimes that doesn't happen and I just crash and watch Netflix! On the weekends, (post-Covid!) you will 100% find me on a downtown dance floor or having glam cocktails with my girlfriends wearing the sparkliest dress I can find! 
What books are on your bedside table? 
Currently two collections of short stories –– "Modern Times" by Cathy Sweeney and "Her Body and Other Parties" by Carmen Maria Machado. Sometimes I'm very tired after a day full of academic reading, so I find short fiction to be more manageable. 
What inspires you? 
This is so cliché, but my parents really inspire me. Their number one priority is to lead with compassion–in both their personal and professional lives. This is something that I strive to emulate, and something I think is really important for a scholar to remember. At the end of the day, we're all working toward something we think will have a positive impact for others and the world around us. 
How would your closest friends describe you? 
Oh gosh–– a massive chatterbox, good craic, a bit of a kook, and hopefully, kind. 
What did you originally want to be when you grew up? 
I wanted to be an actor or a writer. I spent many wonderful years working as an actor, and now I've turned to writing––so, I hope that means baby-Claudia would be proud of me! 
What advice would you give your younger self or someone considering a similar path? 
Make your own opportunities. I think working in the arts teaches you to be resourceful as it's such a tough and unstable industry. The best advice I could give would be: don't wait around for anyone else to open a door for you, you've got to figure out a way to open it for yourself. Also, always be able to laugh at yourself. 
Tell us about a current achievement or something you're working on that excites you. 
Just before lockdown last year I premiered a work-in-progress of a new performance piece I created called Goodnight, Lovelace. It features a live actor and a small robot. It has been such a wonderful way for me to blend my research with my artistic practice, and I look forward to developing it further when theatres and studios open up. 
What are you most proud of in your career to date? 
I've had such a twisty career to date––I've worked in everything from theatre and film, to retail and fashion, and now, academia! There have been some amazing highlights, such as having my first play staged in 2018, but, I think what I'm most proud of is having an open mind about where things might lead me and trying my best to make things happen for myself. 
Published: July 20, 2021 
---
If you know a graduate student, postdoctoral trainee, graduate faculty member, staff member, or a member of our TGS alumni population who would make a great candidate for our TGS Spotlight Series, please complete this brief TGS Spotlight Series Nomination Form.