Chelsea Taylor (she/her)
Interdisciplinary PhD in Theatre and Drama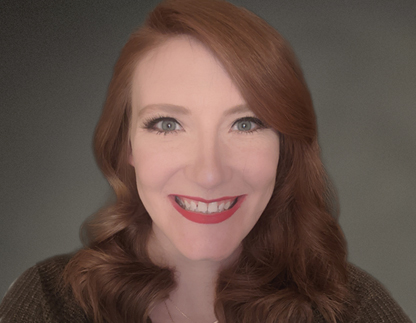 Chelsea Taylor is an interdisciplinary PhD candidate in theater and drama in the School of Communication. Her current research explores how live performances that adapt biblical stories at contemporary Christian tourist destination across the United States function as immersive preaching techniques, giving old narratives new spiritual impacts for their audiences. Her work has been supported by the Buffet Travel Grant and the Mellon Interdisciplinary Cluster Fellowship, and she has presented her writing on panels at the Association for Theatre in Higher Education and the Mid-America Theatre Conference.
How would you describe your research and/or work to a non-academic audience?
Very broadly, I am interested in what role(s) performance plays in how we come to believe in something. Specifically, I examine theatrical adaptations of the Bible at contemporary tourist destinations in the U.S. that are made by Christian artists invested in spreading the belief that the Bible is the infallible Word of God. Because the process of adaptation necessarily demands change, these artists must, ironically, alter scripture to communicate its holistic and inherent perfection. My work explains how seemingly small, innocuous artistic choices in these adaptations have huge theological and political implications and how these politically charged artistic perspectives are marketed simply as the Word of God.
Tell us what inspired your research and/or work.
While I was working on my masters in theatre, I wrote what was originally intended to be a one-off paper on the performative power of celebrity preacher Joel Osteen during his Sunday services at his megachurch in my hometown of Houston, Texas. After reading the paper, a mentor of mine off-handedly mentioned that Lakewood Church was the most popular theatre in town. Although I was writing a master's thesis on a completely different topic, I just couldn't get that comment out of my head. Eventually, that comment morphed into the question: "Can religious make-believe actually make belief?" And I have been thinking about that question ever since.
What is a mistake you have learned from in your career?
When I applied to Northwestern, I pitched a dissertation topic that was an extension of my work on impossible stage directions in postmodern German plays. Even though I was not super passionate about continuing that research, I felt like I owed it to some imaginary authority, like I wasn't allowed to change my mind. I worried that future advisers or employers wouldn't share my ever-growing curiosity regarding biblical adaptations, so I stuck with my original topic for the first year of coursework. Now, I wish I would have announced my switch in topic sooner, because I found a wonderful support system filled with fascinating people as soon as I did! I am not quite sure who exactly I was trying to impress that first year by pretending to put together this fake dissertation project, but I am glad I finally got around to trusting my instincts. As I am sure most grad students already know, you've got to get excited about your topic in order to have the energy to write a dissertation!
What books are on your bedside table?
I find myself needing a brain-break from academic reading, so I try to keep my bedside table reading light and fun. I just finished two thrillers by Riley Sager, Survive the Night and Home Before Dark, and I am in the middle of Truman Capote's true crime classic In Cold Blood.
How would your closest friends describe you?
I hope my friends would describe me as friendly and fun! I'm an extrovert, so I try to create more opportunities to socialize by hosting department get-togethers or happy hours. I am always down for a good laugh and the chance to make new friends!
What did you originally want to be when you grew up?
I really wanted to be a veterinarian growing up. I have always loved animals and cherished pets. When I was in the seventh grade, we dissected deer hearts in biology class, and I passed out…twice. During freshman year of high school, it was fetal pigs, and I hit my head on a lab table when I fainted. When I woke up in the nurse's office that time, I accepted my dreams of becoming a vet were dashed, and I started to focus more on my theatre extracurriculars.
Tell us about a current achievement or something you're working on that excites you.
I am currently a Franke Graduate Fellow with the Kaplan Institute for the Humanities, and I am thrilled about it! I get to work with an amazing cohort of fellow graduate students, faculty members, and undergraduate students, and I am already learning so much from them. I also am in my third year of working as a fellow with the Graduate Writing Place. I take a lot of pride in helping other graduate students develop their research projects, polish job application materials, get published, and more!
Published: January 11, 2022
---
If you know a graduate student, postdoctoral trainee, graduate faculty member, staff member, or a member of our TGS alumni population who would make a great candidate for our TGS Spotlight Series, please complete this brief TGS Spotlight Series Nomination Form.