Azadeh Safaeian
PhD Candidate in the Program of Comparative Literary Studies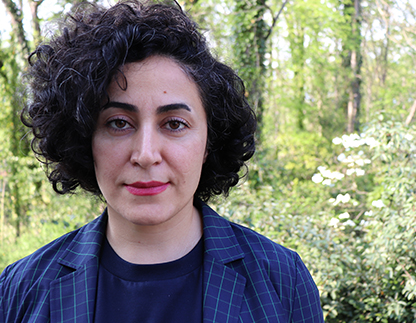 Azadeh Safaeian is a PhD candidate in the Program of Comparative Literary Studies in the Weinberg College of Arts and Sciences. Her research focuses on literary and cinematic narratives of war by minorities—specifically women, ethnic minorities, people with disabilities, and children—in Iran during and after the Iran-Iraq War (1980–1988).
Tell us what inspired your research and/or work.
I was a young kid during the Iran-Iraq War. Although I lived hundreds of miles away from the battlefront, the televised war and the graphic images of dead bodies and mass destruction had a haunting impact on me. I think the specter of the war was what ignited my work. In my work, I study different ways through which marginalized groups deal with their traumas. By attending to these understudied narratives, we can push against the limits of the Eurocentric theories of trauma and disability.
What have been some of the most memorable twists and turns of your career?
My first bachelor's degree was in biology, and I worked in a medical lab before switching to comparative literature. It may sound like a radical twist, but my research on the representations of physical and psychological trauma is not far from my science background.
What do you find both rewarding and challenging about your research and/or work?
In my research, I deal with narratives of war and trauma, which can at times be emotionally exhausting. Foregrounding the narratives of marginalized groups is the most rewarding aspect of this project for me.
What is the biggest potential impact or implication of your work?
My hope is to propose a more nuanced and inclusive theoretical framework for understanding somatic pain and psychological trauma.
Why Northwestern?
Northwestern's programs of Comparative Literary Studies and the Middle East and North African Studies are the ideal intellectual places for me to study with some of the most brilliant scholars in both fields. Their cutting-edge research opens new and challenging paths for innovative and interdisciplinary research.
What books are on your bedside table?
Mostly classical Persian poetry.
How would your closest friends describe you?
I hope they describe me as a kind person.
What did you originally want to be when you grew up?
Obviously, an alchemist! When I was a kid back in Iran, I used to watch a Croatian animated television series about an old genius professor called Balthazar. I thought he was an alchemist and so I wanted to be an alchemist!
What advice would you give your younger self or someone considering a similar path?
Trust yourself and your personal experiences.
Tell us about a current achievement or something you're working on that excites you.
Receiving the Mellon/ACLS Dissertation Completion Fellowship and the Mellon/SSRC International Dissertation Research Fellowship is very exciting. What I am most excited about though is an article that I am working on. It is drawn from the first chapter of my dissertation, and I hope to submit it in the next month.
Tell us about a time when things did not go as you planned, what did you learn?
I wanted to go to Paris for a year to attend the Northwestern Paris Program, but my US visa was expired, and I could not leave the United States. So, I missed it! (Academic life on a student visa is complicated.) Anyway, I focused on other opportunities and fellowships, and it worked out well. I miss Paris, though!
What are you most proud of in your career to date?
I am most proud of not giving up on my dreams despite the numerous hardships.
Published: September 7, 2021
---
If you know a graduate student, postdoctoral trainee, graduate faculty member, staff member, or a member of our TGS alumni population who would make a great candidate for our TGS Spotlight Series, please complete this brief TGS Spotlight Series Nomination Form.