Damon L. Williams
Associate Dean for Diversity and Inclusion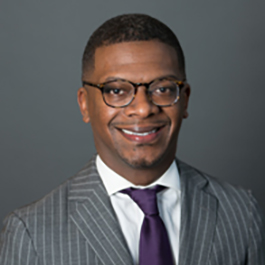 Contact Information
Damon Lewis Williams, Jr., joined The Graduate School in summer 2017 as the assistant dean for diversity and inclusion and was promoted to associate dean in July 2021.
In this role, he is responsible for diversity, equity, and inclusion strategic planning and implementation for faculty, postdoctoral trainees, and students under the supervision of The Graduate School and serves as a key member of the senior leadership team. Damon facilitates recruitment and retention efforts for domestic under-represented masters, PhD, and postdoctoral trainees, leads the Diversity and Inclusion Advisory Council, and works across units at the universities to ensure a culture of inclusivity for the graduate community. Williams joined Northwestern from Emory University, where he served as the inaugural director of diversity, community, and recruitment in the James T. Laney Graduate School and created the Emory Diversifying Graduate Education Office.
As a competent practitioner, Damon has worked in many roles supporting inclusivity for institutions and organizations including Xavier University of Louisiana, Georgia State University Trio programs, Phillip Morris USA(Altria), and Verizon Wireless. He has a strong history of developing partnerships and pipelines which serve to recruit and retain underrepresented minority students in the workforce or graduate education. His work has garnered him recognition by Black Enterprise Magazine, Diverse Issues in Higher Education, Xavier University's Top 40 under 40 Award, Northwestern University's Penny Warren Service Award, and a Norman C. Francis Fellow. Damon serves on several national boards including National Conference for Race and Ethnicity (NCORE), Medical Moguls, and Hill Harper's "Making Your Destiny", a non-profit targeted for at-risk youth and serves on advisory boards for the Social Sciences Research Council (SSRC), One Hope United, United Negro College Fund (UNCF) and Native Son to name a few. He is a member of the National Black MBA Association, National Urban League, National Association of Diversity Officers in Higher Education (NADOHE), and many other organizations.
Damon holds a BS in psychology from Xavier University of Louisiana, a master's in marketing from Tulane University, and an MBA from Fontbonne University. He holds additional certificates from Cornell University, Emory University, and was a 2018 staff leadership fellow in the Kellogg School of Management's Executive Education Program.