Rita Rongyi Lin (she/her)
Rita Rongyi Lin (she/her)
PhD Candidate in Screen Cultures in the Department of Radio/Television/Film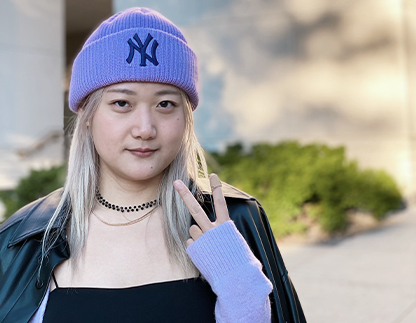 Rita Rongyi Lin is a PhD candidate in the Screen Cultures program in the Department of Radio/Television/Film in the School of Communication. Her research interests include transnational cinema, new media, urban space, affect, and critical theory. Working across divergent national, historical, and theoretical contexts—as well as tropes of the flâneuse (e.g., the fallen woman, the sleepwalker, and the (im)migrant)—her dissertation considers the structures of desire and identification for gendered and ethnicized subjects and ways of relating to an image other than rapture, such as distraction, disorientation, and disavowal.
How would you describe your research and/or work to a non-academic audience?
I write about the relationship between gender, looking, and history-writing in transnational cinemas. Historically, the cinema and the nation have often served as heteropatriarchal institutions with grand narratives that silence women's voices and their ways of looking. My dissertation challenges these grand narratives by exploring the perspectives of female characters who border-cross, both figuratively and literally, and how their precarious movements between first and third-world national spaces perform alternative visions of history and belonging.
Tell us what inspired your research and/or work.
I had been interested in gender and mobility for a long time, but my dissertation project really took shape during the start of the COVID-19 pandemic. As an international student from China studying in the U.S. who faced travel and visa restrictions on both sides of the Pacific, I had to reckon with the less-than-romantic stakes of transnational mobility as both an individual and a scholar. My research interest in exile, diaspora, and displacement continues to be informed by the dysfunctional political realities of our times.
Whom do you admire in your field and otherwise, and why?
I admire my adviser and my dissertation committee for their academic brilliance as well as the generous support and encouragement they have given me throughout my PhD career. I also admire the courage and resilience of faculty—especially women of color—in academia who have fought for our institutions to become more inclusive and diverse spaces.
How do you unwind after a long day?
I love cooking. I find it to be an intimate way of connecting with one's culture and loved ones. One of my favorite self-care routines is making food for my friends or calling my parents for home recipes.
What books are on your bedside table?
One book that I have enjoyed reading is Ling Ma's Severance. It's about a global pandemic where people gradually lose their memories (kind of like a zombie apocalypse but without the aggressive biting), mixed with the narrator's flashbacks to her life before the end of the world. It's a page-turner. And the main character is from Fuzhou, Fujian, China – like me, so I feel very represented!
What did you originally want to be when you grew up?
A writer. So I suppose it's not very far off from what I do now.
What advice would you give your younger self or someone considering a similar path?
Be determined about your passions, open-minded about your career, and kind to yourself.
Tell us about a current achievement or something you're working on that excites you.
As a side project, I have been writing about K-pop music videos and their relationship to Orientalism and feminism, including BTS's "Idol," NCT's "Kick It," and TWICE's "What Is Love?" While my dissertation focuses on film, I am also interested in East Asian popular culture and new media. I am excited that I have found a way to sustain these interests and participate in ongoing conversations and emerging scholarship in these areas. I have also found echoes between this side project and my main dissertation project that now give me a more holistic understanding of my research profile. 
Published: February 13, 2023
---
If you know a graduate student, postdoctoral trainee, graduate faculty member, staff member, or a member of our TGS alumni population who would make a great candidate for our TGS Spotlight Series, please complete this brief TGS Spotlight Series Nomination Form.