Rikki Byrd (she/her)
PhD Candidate in African American Studies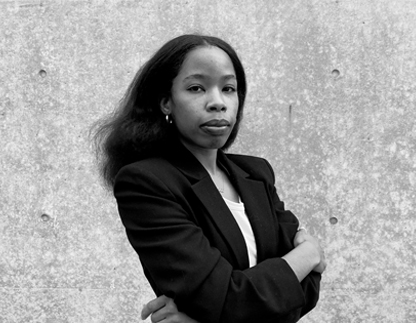 Rikki Byrd is a PhD candidate in the Department of African American Studies in the Weinberg College of Arts and Sciences. Her work is dedicated to expanding knowledge about Black contemporary art and Black people's relationship to fashion. Rikki's dissertation project examines the way that Black people use clothing and textiles to perform mourning. To expand her focus on Black fashion and aesthetic practices, she edits the Fashion and Race Syllabus, founded in 2016, and the Black Fashion Archive, founded in 2018. Rikki is a Presidential Fellow, the most prestigious fellowship awarded to graduate students by Northwestern. 
How would you describe your research and/or work to a non-academic audience?
My research explores the ways that Black people perform mourning through clothing and textiles. I analyze work by Black contemporary artists from across the diaspora who use fashion objects such as "Rest in Peace" T-shirts, hoodies, and West African textiles to respond to loss on a personal and communal level. My aim is to explore the intimate ways that Black people work through loss, the way that the use of these particular fashion objects and textiles reverberate throughout the diaspora, and how a turn to clothing and textiles might expand Black Studies' long examination of death in the field.
What have been some of the most memorable twists and turns of your career?
Pursuing degrees in three different fields has been the most memorable twist and turn. I have of Bachelor of Journalism from the University of Missouri, a Master of Arts in Fashion Studies from Parsons School of Design, and I now am pursuing my PhD in African American Studies. My career goals have drastically changed each time (from wanting to become an editor at a major fashion publication to wanting to become a professor and curator).
Whom do you admire in your field and otherwise, and why?
My committee members, of course—E. Patrick Johnson, Celeste Watkins-Hayes, and Krista Thompson.
I also deeply admire my mother. She introduced me to fashion and is one of the most creative people that I know.
What do you find both rewarding and challenging about your research and/or work?
I'm really committed to enhancing the study of fashion in the academy, not only through technical training, but also in the humanities and social sciences. Fashion intersects with so many facets of our lives. I think for a while (and maybe in some corners it still is) fashion was considered a frivolous topic of study. It is an incredible time to be doing this work as people are really expanding their thinking and understanding of aesthetic practices. It also is a time in which the mainstream fashion industry is being held accountable for years of systemic racism. Scholars in history, English, and more are looking to the ways fashion shows up in personal, political, cultural, and creative ways, and it's exciting to explore how a turn to fashion helps to expand topics and subjects long discussed in several academic fields.
 How do you unwind after a long day?
I watch way too much television in the evenings; it's a not-so-great habit that I developed after my first year in the PhD program. I use it to unwind. It's good to get lost in a fictional storyline. I love a good plot twist!
What books are on your bedside table?
Too many! Currently: All That She Carried: The Journey of Ashley's Sack, a Black Family Keepsake by Tiya Alicia Miles, They Can't Kill Us Until They Kill Us by Hanif Abdurraqib, and You Made a Fool of Death With Your Beauty by Akwaeke Emezi.
What inspires you?
Visits to art museums and galleries
What did you originally want to be when you grew up?
A ballerina. I wanted to study at Juilliard and then go on to dance for the Alvin Ailey Dance Company.
 What advice would you give your younger self or someone considering a similar path?
Rejection is not always personal. Not right now doesn't mean never.
Tell us about a current achievement or something you're working on that excites you.
I recently received the Northwestern Presidential Fellowship and I am still in shock. I am very grateful for the recognition and honor.
Published: June 21, 2022
---
If you know a graduate student, postdoctoral trainee, graduate faculty member, staff member, or a member of our TGS alumni population who would make a great candidate for our TGS Spotlight Series, please complete this brief TGS Spotlight Series Nomination Form.