Madison Alan-Lee
PhD Student in Screen Cultures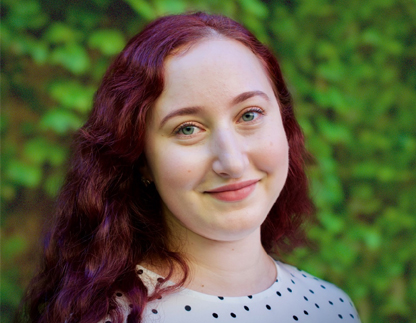 Madison Alan-Lee is a PhD student in the Screen Cultures program in the Department of Radio/Television/Film at Northwestern's School of Communication. Her research interests include affect, embodiment, and excess in science fiction, television, and new media. Recently, her projects have examined the role of nostalgia and the archive in The Twilight Zone as well as the representation of anxiety through slime in film and on YouTube. Madison is currently a Chicago Humanities Institute Block Cinema Fellow with The Block Museum and co-curated Unreal City, a program of experimental films exploring the legacies and futures of Black British cinema. 
How would you describe your research and/or work to a non-academic audience?
Broadly, I look at slime. I write about contemporary online genres, including #oddlysatisfying, autonomous sensory meridian response (ASMR), and slime videos; genres that are sensory explorations of materiality and form. Through their focus on the human sensorium, slime videos address an embodied viewer and gesture toward the ways that non-networked life is necessarily intertwined with mediated experience. I am deeply curious about such objects' affective dimensions and how they might alleviate anxiety or generate pleasure. My research also focuses on the gendered valences of these genres. I am particularly interested in how slime videos, through their foregrounding of disembodied, female-presenting hands with manicured fingernails, evince a gendered aesthetic of care tied to immaterial and affective labor.
Tell us what inspired your research and/or work.
My interest in slime emerged from countless hours spent watching science fiction and horror films. (Re)watching Alien with a good friend was an incredibly inspiring moment. On the academic side, Professor James Hodge's "Ordinary Media" seminar was a generative course that continues to shape my work.
What do you find both rewarding and challenging about your research and/or work?
My work is invested in understanding how playful aesthetic forms and genres articulate contemporary networked experience. I find value in objects that might be dismissed as trivial or mundane because they reveal unexpected pockets of pleasure, relief, and connection.
How do you unwind after a long day?
I spend most days relaxing indoors with my three cats and two bunnies. I'm a classically trained violinist and violin teacher, and I love to play chamber music with friends. Lately, I have also (clumsily) been learning to roller skate.
What did you originally want to be when you grew up?
I have always loved animals and wanted to be a veterinarian throughout most of my childhood.
Tell us about a current achievement or something you're working on that excites you.
I began a fellowship at the Block Cinema through the NU Chicago Humanities Initiative (CHI) this summer. Currently, we are developing a year-long program that centers on Black British experimental filmmakers. In particular, I have been working on a series that deals with questions of memory and amnesia—colonial, historical, personal, or otherwise—through recent experimental films by Black British feminist filmmakers. Collaborating with The Block Museum has been inspiring and has redefined my expectations of what creative partnerships can look like.
Published: December 1, 2020
---
If you know a graduate student, postdoctoral trainee, graduate faculty member, staff member, or a member of our TGS alumni population who would make a great candidate for our TGS Spotlight Series, please complete this brief TGS Spotlight Series Nomination Form.