Jessica Passos (she/her)
PhD Candidate, French and Francophone Studies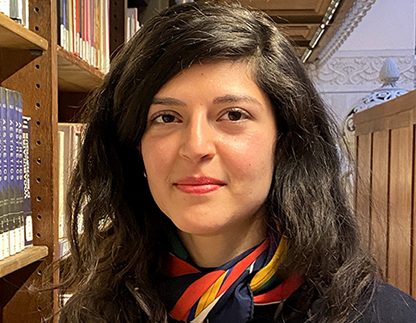 Jessica Passos is a PhD candidate in French and Francophone studies in the Weinberg College of Arts and Sciences. Before beginning her studies at Northwestern, she conducted graduate work at Heidelberg University and Amherst College, where she focused on the intersection between cultural studies, philosophy, and literature. Jessica's dissertation brings to the foreground overlooked artworks in poetry, cinema, and radio produced during the early and late periods of surrealism.
How would you describe your research and/or work to a non-academic audience?
I work on surrealist materials that explore the artistic potential of voice and sound in general. Scholars have extensively explained how visual surrealist techniques explore the imagistic quality of dreams. My aim is to demonstrate that voice is equally as important to the surrealist project to reimagine the foundations of reality, for it intersects with the imagination and the unconscious. My research comprises three chapters, one dedicated to poetry and two to exploring radio, where I examine different valences the voice acquires when confronting its other forms (e.g., writing, body, image) to uncover a poetic voice produced by different effects of voicing. There is also an important political dimension to the project since most of the materials are from the interwar period and explicitly attempted to galvanize an anti-fascist form of resistance.
What have been some of the most memorable twists and turns of your career?
Because some of the materials are not as famous as other already well-researched surrealist works, I had to dedicate myself to laborious archival work that provided me with the most noteworthy twists and turns in my career. Nothing could have prepared me for the intellectual and emotional labor implied in that kind of work, which although tedious at times, is still very exciting. With the support of the Paris Program in Critical Theory, I was able to spend part of my time researching in Paris, and my dissertation took a different turn after having access to unpublished and sometimes non-digitalized manuscripts. Because of that, I am now writing two chapters on 1930s radio in France, a medium I was far from being familiar with at the time I started writing my dissertation. The period during the pandemic when that work became impossible was not as much a turn but a real, and apprehensive, halt.
Tell us what inspired your research and/or work.
My research started at a place of conflict between theoretical questions and my fascination with poetry and media. Most of the intellectual challenges I have faced came from an inherent tension between these threads that, although at times may converge, remain distinct from each other. The guidance of my adviser Chris Bush has been indispensable in grappling with this tension.
Whom do you admire in your field and otherwise, and why?
It might sound unusual to say this, but I most admire the friends I have made during my career. We all dedicate a crucial part of our lives to reading books and attending lectures and seminars by renowned and brilliant scholars but for me, the intellectual engagement I have received from my friends in, and outside of, Northwestern has been invaluable. In addition to a sense of community, their generosity and intellectual rigor have given me a feeling of mutual respect particular to real friendships. I am already anticipating a long and saccharine list of names in my dissertation's acknowledgment.
How do you unwind after a long day?
I go on long walks, do ceramics or embroidery, see my friends, or watch TV. Ceramics and embroidery are pandemic-acquired hobbies. I realized that doing an activity with my hands whose result is more immediate than a dissertation helps me keep a sense of ease.
What books are on your bedside table?
I am reading Mona Chollet's Réinventer l'amour and Isabelle Alfandary's Science et fiction chez Freud.
Tell us about a current achievement or something you're working on that excites you.
I recently presented at a conference dedicated to the reprinting of Shoshana Felman's La folie et la chose littéraire (Writing and Madness). Felman is one of the most brilliant literary scholars I've had the pleasure to read, so I was very happy to receive an invitation to participate in such an event. Since it was organized by the Collège International de Philosophie, the public was both academic and non-academic. This atmosphere allowed me to present part of my work to an audience I don't usually have the chance to encounter. In addition to that, I was recently awarded the Chateaubriand Fellowship to spend part of this academic year in Paris, a time I intend to dedicate to the completion of the archival research left unfinished during the closing of the libraries in France.
What are you most proud of in your career to date?
I am most proud of two projects adjacent to my academic work which help me keep my other intellectual interests alive. These are the Chicago Girls and the Causeries Critiques. The first is a reading group focusing on Marxist critique on political economy, feminism, and psychoanalysis. I have been part of this group since 2019 together with five other doctoral students I met in Paris who hail from different universities in Europe. The second is a research seminar I organize at Paris 3 Sorbonne Nouvelle together with another advisee of Isabelle Alfandary. The goal of the seminar is to provide a place for graduate students and young researchers to meet and discuss critical theory.
Published on: March 29, 2022
---
If you know a graduate student, postdoctoral trainee, graduate faculty member, staff member, or a member of our TGS alumni population who would make a great candidate for our TGS Spotlight Series, please complete this brief TGS Spotlight Series Nomination Form.