Jacob Kupferberg
PhD Student in the Department of Materials Science and Engineering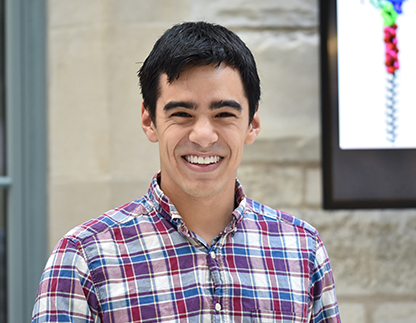 Jacob Kupferberg is a PhD student in the Department of Materials Science and Engineering in the McCormick School of Engineering. His research focuses on creating synthetic components that utilize light to produce useful chemicals. 
How would you describe your research and/or work to a non-academic audience? 
I work with unique dye molecules that can rearrange into ribbon structures with excellent light-absorbing properties. Because of their unique structure, these ribbons can absorb light and transfer that energy to catalysts to create useful fuels. So far, we have managed to make hydrogen from water and methane from carbon dioxide. I was able to put this system into a gel matrix (alginate from algae), which enhanced its performance and reusability. I also managed to tune the system for 3D printing, and I am currently trying to optimize the shape for more efficient solar fuel generation. 
What is the biggest potential impact or implication of your work? 
Hopefully, to develop a method of converting solar energy (which we have an abundance of) into useful fuels. Fossil fuels remain dominant because of their low cost and ease of use. Having clean chemical fuels could open a lot of options for clean energy storage. 
Tell us what inspired your research and/or work. 
Photosynthetic organisms have all sorts of methods for using sunlight to make useful chemicals. My research aims to replicate that process with synthetic components. After all, nature is optimized for life, not for fuel generation. 
What inspires you? 
Besides trying to find a way to combat the looming threat of climate change, probably just helping people out. I want to make a positive change, and science is the best way I can do that. 
Whom do you admire in your field and otherwise, and why? 
All of the postdoctoral mentors I have had the pleasure to work with. They work so hard, and they are all so brilliant. Each one of them could have their own lab, and I have learned so much from them. 
What books are on your bedside table? 
I have a stack of random comics that I have already gone through. More often, I listen to audiobooks (easier than reading when working in the lab). I recently listened to Sorry Please Thank You: Stories by Charles Yu, a collection of short stories drawing influences from science-fiction and science. It feels like a modern take on the old-school sci-fi short stories. Pretty fun to listen to if you are interested. 
What is a mistake you have learned from in your career? 
You have to ask for help. Do not try to power through on your own, as it is a recipe for a mental breakdown. Also, if you are struggling, chances are that your colleagues you admire also are struggling. Do not let impostor syndrome tell you that you are the only one having difficulty. You have to learn to treat yourself like you would a friend. 
What advice would you give your younger self or someone considering a similar path? 
Ask questions and make mistakes. Science is educated trial and error with good notetaking. It is okay to not understand or not know something; that is part of the process. 
Tell us about a current achievement or something you're working on that excites you. 
I finally managed to attach my material to an electrode and generate hydrogen using light! This is what the last three years have been working up to. I had a lot of preliminary data indicating that it was possible, but I finally measured some hydrogen. This opens so many avenues for my work! 
Tell us about a time when things did not go as you planned, what did you learn? 
In 75% of experiments, there is usually some aspect that does not go according to plan. I think a good portion of awesome science is the result of well-documented mistakes. My whole first year was spent working on a printing system that was incompatible with my molecules, but it enhanced my control system, which is neat. 
What are you most proud of in your career to date? 
I'm proud of all of my scientific work, but I am also really proud of the work I have done with the Graduate Leadership and Advocacy Council (GLAC) and the NU COVID-19 Committee. We've helped advocate for researcher safety, helped get people N95 masks, and helped get people to vaccines. I think we have been able to help out a lot of researchers during a challenging time, and that makes me chuffed. 
Published: July 13, 2021
---
If you know a graduate student, postdoctoral trainee, graduate faculty member, staff member, or a member of our TGS alumni population who would make a great candidate for our TGS Spotlight Series, please complete this brief TGS Spotlight Series Nomination Form.