Grace Wickerson (they/them)
Grace Wickerson (they/them)
PhD Student in Materials Science and Engineering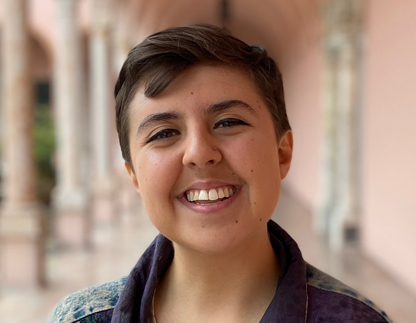 Grace Wickerson is a PhD candidate in the Materials Science and Engineering program at the McCormick School of Engineering. They work on emerging medical technologies, from devices that dissolve in the body to responsive adhesives for safe removal. They are a research intern with the Center for Health Equity Transformation working on engineering design methods for building with those closest to health injustices, a Policy Entrepreneurship Fellow with the Federation of American Scientists, outlining policies to mitigate bias in medical technology development, testing, and market deployment, and write about health equity, engineering, ethics, and social justice in outlets like Scientific American.
How would you describe your research and/or work to a non-academic audience?
My research focuses on engineering medical devices that safely dissolve in the body after use. We have been able to demonstrate dissolvable pacemakers, nerve regeneration devices, and now diaphragm pacemakers using materials that are broken down by biofluid into components the body can then metabolize or excrete. Beyond the lab, I am collaborating with Northwestern's Center for Health Equity Transformation on community-engaged, participatory engineering design practices for building new medical technologies with those closest to health injustices. Finally, I am researching and advocating for policies that address biases that arise at the development, testing, and market deployment stages of medical technologies.
What have been some of the most memorable twists and turns of your career?
Getting involved in policy and honing my skills in relational organizing as a student leader at my undergraduate, Rice University, was something I never would have expected as a 1st year undergraduate. My final year, I was student body president, where I helped establish a multi-million-dollar sustainability initiative, created a Vice Provost position for DEI, ensured a community benefits agreement for university-led developments, and organized +160 student body presidents across the country to rally for P/F grading and expansion of telehealth services during COVID-19. That passion for utilizing policy to make systemic change has followed me into my graduate studies and I'm now channeling it into addressing bias in medical innovation as a Policy Entrepreneurship Fellow at the Federation of American Scientists.
Tell us what inspired your research and/or work.
My research is inspired by a desire to address unmet needs and problems in medicine. It is made even more real for me as I am dealing with chronic illness and see how gaps in the research affect my current quality of care. My goal is to empower patients to activate around collective responses to illness to shape technologies, practices, and policies.
Whom do you admire in your field and otherwise, and why?
Ayana Elizabeth Johnson is an incredible scientist, organizer, writer, and policy expert who inspires me to use science and engineering to foster social good and envision collaborative solutions for a brighter future.
What is the biggest potential impact or implication of your work?
I believe in a community-centered approach to healing and healthcare. Through my multidisciplinary work in materials science, biomedical engineering, policy, and organizing, I have seen the potential of merging applied science with social justice to address health inequities. Through contextualizing engineering in the specific needs of communities, we can work together with policy-makers, nonprofit leaders, and companies to foster a system of healthcare that supports the needs of those historically excluded from medical care.
What books are on your bedside table?
Everything Below the Waist by Jennifer Block which is an incredible book on how medical technology fails women, Design Justice: Community Led Practices to Build the Worlds We Need by Sasha Costanza-Chock which outlines practices for deep engagement with communities to design new technologies, All We Can Save edited by Katharine Wilkinson and Ayana Elizabeth Johnson – a fantastic anthology of women climate leaders, Pollution is Colonialism by Max Liboiron which questions the dominant scientific knowledge paradigm, and The Power of Ritual by Casper ter Kuile which discusses grounding practices inspired by ancient religions for living and thriving in our digital age.
What advice would you give your younger self or someone considering a similar path?
I think it is ok to have a diversity of interests beyond your field. Your academic path does not have to define you and the work you pursue after graduate school.
Tell us about a current achievement or something you're working on that excites you.
I'm very proud of my essay in Scientific American that was published earlier this year about how engineering education needs to prepare engineers to design with equity in mind. Thinking about my own field, it is so important to discuss how engineers can further exacerbate healthcare disparities if they fail to consider the social context during the design process. I am looking forward to developing an engineering practice grounded in the needs of communities, and engage in equity-based, justice-based design of medical technologies.
Published: May 3, 2022
---
If you know a graduate student, postdoctoral trainee, graduate faculty member, staff member, or a member of our TGS alumni population who would make a great candidate for our TGS Spotlight Series, please complete this brief TGS Spotlight Series Nomination Form.