Ely Orrego Torres
PhD Student in Political Science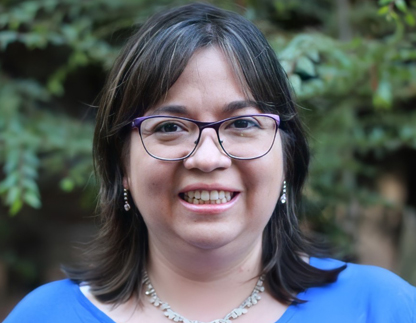 Elizabeth (Ely) Orrego Torres is a PhD student in political science in the Weinberg College of Arts and Sciences. Ely previously earned a B.A. in Political Science from Pontifical Catholic University of Chile and an M.A. in Contemporary Thought from Diego Portales University in Chile. In 2019, she received a Mellon Cluster Fellowship in Critical Theory.
How would you describe your research and/or work to a non-academic audience?
The recent rise of religious fundamentalist ideas, which is connected with a threat to democracy in places such as Latin America and India, is changing the understanding of religion and politics today. In particular, the concept of "secularism" in Western society is commonly understood either as the decline of religion in the political sphere or the fixed division between religion and politics. My hunch is that "secularism" needs to be reinterpreted according to the historical and cultural differences in the Global South.
Tell us what inspired your research and/or work.
I grew up in an evangelical Baptist family in Chile. As a child, I was exposed to religious experiences and Biblical stories. I wanted to bring that knowledge into my academic work as an undergrad, so I became engaged with theorists working on political theology. Later, I wrote a thesis on the concept of time based on Pauline epistles and contemporary philosophy. The rise of religious fundamentalism in Latin America and its relationship with populist leaders made me realize the importance of studying that phenomenon. It is configuring a new political scenario not only in the region but also worldwide.
What is a mistake you have learned from in your career?
As a first-year PhD student with a different language, educational, and cultural background, I struggled a lot with impostor syndrome. I think it is a common feeling in graduate students, and we need to learn how to deal with it. The mistake is to feel overwhelmed and powerless. However, we can get emotional support from our friends, classmates, and professors. 
Why Northwestern?
I chose Northwestern because of the outstanding faculty, the diversity of students, and the interdisciplinary clusters. I firmly believe that interdisciplinary work is the future in academia, and I wanted to work closely with students and professors in religious studies and critical theory studies. 
How do you unwind after a long day?
Cooking is my therapy. I am continually watching recipes videos and TV shows on food and travel.
What books are on your bedside table?
My Seditious Heart by Arundhati Roy and The Stories of Eva Luna by Isabel Allende. 
What did you originally want to be when you grew up?
Soccer player. When I was a child, I used to play soccer with my grandfather and uncles. However, it was not usual to see female players on media, and even among my friends, I was the only girl playing. When I turned 10 years old, I got an amazing birthday gift: an official jersey of my favorite soccer team, Universidad de Chile or la "U." 
What advice would you give your younger self or someone considering a similar path?
Take your time to learn from others and explore what do you want to do in your career. There is a lot of anxiety when we finish college, but it is essential to take time to develop your skills and explore different opportunities to find something that motivates you. For instance, you can learn a new language, you can volunteer abroad, or you can apply to graduate programs. Grad school or academia is not the only path for everyone, and there is no straightforward career.
Tell us about a current achievement or something you're working on that excites you.
Recently, I published an article in a Chilean journal called Síntesis on ecofeminism and political theology, which was an attempt to diversify the scholarship in the field. Most of the people who are writing on the topic are people with androcentric and geographical bias. My contribution aims to broaden the voices and perspectives in political science. 
Tell us about a time when things did not go as you planned, what did you learn?
When I finished my undergrad in Chile in 2011, I wanted to follow the academic path. I applied for a master's program in the United States. I was admitted, but not with a scholarship. It was frustrating and, for that reason, I stayed away from academia for a while, trying to figure out what I wanted to do. After overcoming that frustration, I joined a master's program in philosophy and, for a couple of years, I worked as an instructor of political science. Then I started traveling and volunteering abroad in Mexico, Italy, and India until finally, I decided to apply to PhD programs. I learned that there is a time for everything. Probably, ten years ago, it wasn't my time, but now I am sure this is the opportune time.
Published: September 8, 2020
---
If you know a graduate student, postdoctoral trainee, graduate faculty member, staff member, or a member of our TGS alumni population who would make a great candidate for our TGS Spotlight Series, please complete this brief TGS Spotlight Series Nomination Form.