Dela Kuma
PhD Candidate in the Department of Anthropology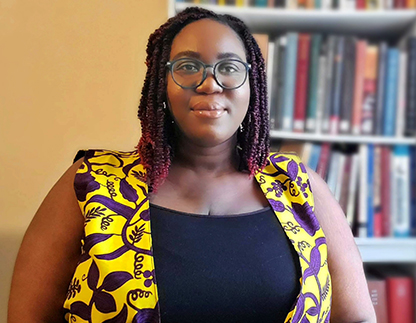 Dela Kuma is a PhD candidate in the Department of Anthropology in the Weinberg College of Arts and Sciences. Her research seeks to understand how people in the southeastern region of Ghana between 1807-1900 participated in and shaped global economic encounters, particularly during the Nineteenth-century export-import trade between West Africa, Europe, and other trade networks. 
In 2020, Dela received the Mellon International Dissertation Research Fellowship. In August 2021, she will take up a temporary position of Senior Research Specialist at the University of Missouri Research Reactor Center. 
How would you describe your research and/or work to a non-academic audience? 
I am broadly interested in how local taste and consumer choice played out in accepting and rejecting trade commodities. My goal is to show that Africans were complex consumers whose tastes and demand for certain commodities were central to the global trade's success on the West African coasts and other participating world economies. 
Whom do you admire in your field and otherwise, and why? 
I admire many people in my field whose work has shaped my thinking in different ways. However, the first name that comes to mind is my adviser, Dr. Amanda Logan. As an expert in the Archaeology of Foodways and Food Security in Atlantic-era West Africa, her work has captured some of the nuances that are expressed in everyday practices. Her commitment and enthusiasm to my academic journey have been instrumental in my intellectual development as a scholar and writer in articulating my thoughts to academic and, most importantly, non-academic audiences. 
What do you find both rewarding and challenging about your research and/or work? 
The rewarding thing I find about my research is knowing that the questions I ask problematize the dominant narratives about African people and their identities. The challenge lies in the radical work required in unlearning and unsettling the structures that have silenced African voices in telling their histories. This work takes a lot of effort, guts, and power, but this is what makes my research worth doing, and it certainly keeps me going. 
What is the biggest potential impact or implication of your work? 
My work provides insights into the complex relationships between taste, consumer practices, and broader social and economic outcomes. It will challenge unilinear accounts of global encounters that frame African consumers as passive recipients and consumers of imported goods and practices. My research further demonstrates how the use of different approaches in archaeology can produce counter-narratives and alternative histories about the past, which includes the experiences and interests of communities whose participation is often silenced in the narratives of global encounters. 
What inspires you? 
I am inspired by all the women who have beaten all the odds to pave the way for me to be in this space. I am inspired daily by my ancestors' resilience despite all the challenges they faced. I am a living confirmation of their wildest dreams. 
How would your closest friends describe you? 
"I would describe her as loving, selfless, and full of grace. As one of my fiercest advocates, Dela has been a beacon of light throughout my graduate experience; she envelopes her community with warmth and joy." 
"You are thoughtful, selfless, benevolent. You truly go out of your way to assist people. You are smart." 
"You are selfless and a go-getter. When you set your goal, no undulating curves can stop you in your quest to reach your destination. The ease you combine this strong will to achieve your target with being selfless is very admirable. You are my daily motivation personified." 
What advice would you give your younger self or someone considering a similar path? 
It will all come together eventually; give yourself some grace. Patience is a virtue but, be daring when you need to be. 
What are you most proud of in your career to date? 
The fact that I have made it this far in my academic career is an achievement I celebrate daily. 
Published: June 22, 2021
---
If you know a graduate student, postdoctoral trainee, graduate faculty member, staff member, or a member of our TGS alumni population who would make a great candidate for our TGS Spotlight Series, please complete this brief TGS Spotlight Series Nomination Form.