Beatrice Choi (she/her)
PhD Candidate in Rhetoric & Public Culture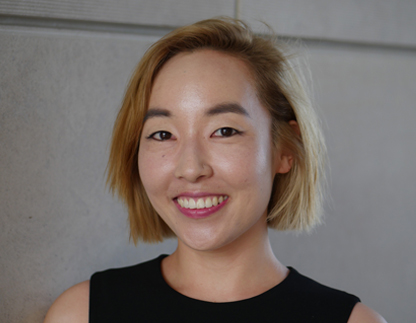 Beatrice Choi is a PhD candidate in the Communication Studies program in the School of Communication with a concentration in Rhetoric and Public Culture. Before coming to Northwestern, she completed an MA in Media, Culture, and Communication at NYU and BAs in Communication and International Studies from UCSD. Her work utilizes both archival and ethnographic methods to examine innovation culture in Brazil. She focuses on technological conditions of knowledge production and narratives of innovation in the Global South. Beatrice also recently accepted a full-time position as a senior researcher at Workday.
How would you describe your research and/or work to a non-academic audience?
My research explores how Brazilian technology workplaces use open-source software as a workaround solution. While this approach may initially be pragmatic, informed by context and constraint, I examine how Brazilians develop open-source software solutions that stand as rich, imaginative artifacts of local innovation.
What have been some of the most memorable twists and turns of your career?
I am a Korean American with strong family ties to Brazil, and I spent a few years living in São Paulo as a child. When I decided to conduct fieldwork in Rio de Janeiro, I ended up spending over two years there. Aside from the ethnographic research that was crucial for my PhD, I find the time spent there was crucial for me in a holistic sense – getting reacquainted with Brazilian culture and family, re-encountering versions of myself, and developing new personal narratives as an academic.
Tell us what inspired your research and/or work.
Namely, observing from personal experience the deep divide between the experiences my parents had here in the U.S. in comparison to friends and family living in Brazil. Brain drain, or the exodus of local talent from countries in the Global South to countries like the U.S., provided an opportunity for my family. I wanted to see how engineers, scientists, and researchers in Brazil spoke about local innovation and opportunity. I also wanted to document how marginalized experiences of the Brazilians creating these types of software in turn shape and design particular innovations.
What is a mistake you have learned from in your career?
When I first joined the PhD program, I had an open-minded understanding that I had not run out of questions I had started to ask as a master's student at NYU. I understood that there were few professional environments left that would carve out space for critical thinkers to be as intellectually selfish as possible, in a generative and creative sense. My mistake was trying to tie my academic development with the literal end result of finding a tenure-track job later on in my graduate program. With some luck and a lot of work, I was able to pivot after a year in a writing fellowship and find a job outside of academia, instead.
Whom do you admire in your field and otherwise, and why?
I admire several scholars I have met in the fields of media studies, science and technology studies (STS), and anthropology. Of note for the significance of their work, mentorship, and views on scholarship are Eden Medina, Sandra Harding, Lilly Irani, Jasmine Cobb, and Marita Sturken.
What do you find both rewarding and challenging about your research and/or work?
Writing! I have yet to complete my dissertation despite already working a full-time job.
What is the biggest potential impact or implication of your work?
My research invites overlooked and unexamined experiences in innovation that add global perspective to the traditionally Western-centric canon of media studies and STS. In privileging voices from the Global South, my project also identifies critical turn posts and barriers in innovation that may inform and drive a more contextual, diverse approach to innovation in the technology sector, universities, and state organizations.
Why Northwestern?
As a prospective student, I remember feeling challenged and inspired by Northwestern scholars' interdisciplinary expertise, rigorous activism and politics, and the way they balanced a life of praxis and theory.
How do you unwind after a long day?
I go for a run or a long bike ride to blow off some steam.
What books are on your bedside table?
Jamie McCallum's Worked Over and Byung-Chul Han's The Burnout Society have been sitting on my table for months now and I have yet to crack them open.
What inspires you?
My friends doing good work in and outside of academia and the intellectually playful conversations we have when we meet.
How would your closest friends describe you?
The person who always asks, "Why?"
What did you originally want to be when you grew up?
An artist!
What are you most proud of in your career to date?
I feel extremely fortunate that I have managed to find a home in different professional fields, whether in academia or in tech, by building strong networks with smart and compassionate collaborators. I could not do the work I have done without them!
Published on: April 5, 2022
---
If you know a graduate student, postdoctoral trainee, graduate faculty member, staff member, or a member of our TGS alumni population who would make a great candidate for our TGS Spotlight Series, please complete this brief TGS Spotlight Series Nomination Form.