Anne-Marie Singh Boyer (she/her)
Anne-Marie Singh Boyer (she/her)
PhD Candidate, Media, Technology, and Society Program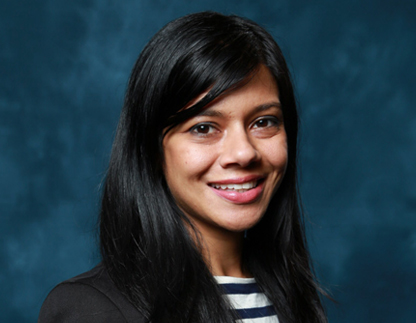 Anne-Marie Singh Boyer is a PhD candidate in the Media, Technology, and Society Program in the School of Communication. She is part of the Network for Nonprofit and Social Impact (NNSI) research lab and is a graduate assistant at the Buffett Institute's Disproportionate Impacts of Environmental Challenges Working Group. She came to The Graduate School after working in environmental nonprofits as a communicator and as a science journalist in public media. Anne-Marie's research explores interorganizational cross-sector collaborations in the environmental nonprofit sector.
How would you describe your research and/or work to a non-academic audience?
Some social issues are so demanding that they are best served by multiple organizations working together. But it's not always easy or straightforward for organizations to collaborate, especially when they come from diverse sectors. I try to understand how nonprofits, government agencies, and businesses can effectively partner to create social impact.
Tell us what inspired your research and/or work.
My work experience taught me that no matter how impeccable a nonprofit's mission is, its impact is heavily determined by its political and corporate engagement, especially when working on polarizing issues like climate change and the environment. The realization that nonprofit collaborations are critical to success but incredibly hard to build and sustain inspired me to learn more about them.
What is a mistake you have learned from in your career?
I've learned that what I find important or interesting might not inspire the same reactions from others. This has made me adaptive and flexible in research and taught me to embrace uncertainty in my professional career.
How do you unwind after a long day?
I enjoy takeout dinners with my husband while watching sitcoms like The Office and Modern Family.
What books are on your bedside table?
The City of Joy by Dominique Lapierre, Djinn Patrol on the Purple Line by Deepa Anappara, and Cribsheet: A Data-Driven Guide to Better, More Relaxed Parenting, from Birth to Preschool by Emily Oster (I'm a new mom!)
How would your closest friends describe you?
I've been described as someone who knows a lot of useless and weird trivia. I've also been told I'm a good listener, a poet at heart, a list maker, and great travel company.
What did you originally want to be when you grew up?
A forensic scientist (I read a lot of mystery novels growing up), but later, I wanted to be a fiction writer when I realized that it was easier to write about cadavers than handle them.
What are you most proud of in your career to date?
My Fulbright Masters Award that sponsored my Master of Science in Science and Medical Journalism degree.
---
If you know a graduate student, postdoctoral trainee, graduate faculty member, staff member, or a member of our TGS alumni population who would make a great candidate for our TGS Spotlight Series, please complete this brief TGS Spotlight Series Nomination Form.