Andrew Rosen
PhD Candidate in the Department of Chemical and Biological Engineering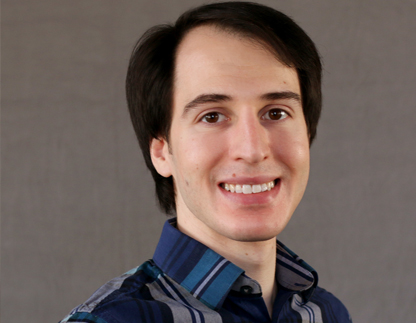 Andrew Rosen is a PhD candidate in the Department of Chemical and Biological Engineering in the McCormick School of Engineering. His research focuses on the use of high-throughput computational screening methods to identify and design promising new materials for energy-related applications. Andrew recently was named a Presidential Fellow, the most prestigious fellowship awarded to graduate students by Northwestern.  
How would you describe your research and/or work to a non-academic audience? 
Many of the most pressing challenges facing society rely on the discovery of new materials with unprecedented properties. While intuition and trial-and-error testing have proven to be invaluable, the time-consuming nature of most laboratory experiments inherently limits the number of hypotheses that can be tested and scale of problems that we can address. In my research, I use some of the world's most powerful supercomputers—along with the fundamental principles governing chemistry—to carry out simulated experiments on thousands of materials in a fraction of the time it takes to run a single experiment in the laboratory. Primarily, I have used this accelerated approach to help discover new materials for a variety of important challenges in the energy sector, such as new catalysts that can efficiently convert natural gas resources to value-added products and adsorbents that can separate oxygen from nitrogen in room temperature air. 
Tell us what inspired your research and/or work. 
In high school, I somehow became obsessed with buckyballs, which are molecules made entirely of carbon that are shaped like nanoscale soccer balls. I think it was some combination of their beautiful symmetry and potential utility for a variety of important applications that caught my attention at the time. I even have a picture of myself at the Nobel Prize Museum in Stockholm standing in front of a picture of an exhibit dedicated to Sir Harry Kroto, who shared the 1996 Nobel Prize in Chemistry in part for his discovery of buckyballs. Perhaps this experience shaped my interest in the materials I study now: metal–organic frameworks, which are similarly beautiful (and functional) materials with intricate crystal structures composed of metal clusters connected to one another by organic linking units. Maybe one day I will get to visit Stockholm again, and by then metal–organic frameworks hopefully will have a Nobel Prize of their own! 
What do you find both rewarding and challenging about your research and/or work? 
My graduate research mainly has been focused on scaling up the number of materials we can computationally investigate using state-of-the-art supercomputing resources and advances in theoretical chemistry. Naturally, it is extremely rewarding when my research is a success and we can effectively study many more materials than ever before for a given problem of interest. However, with every increase in scale comes countless new logistical challenges that I must face. Juggling these inevitable roadblocks with the constant desire to go "just one step bigger" is a constant challenge but makes the end result that much more rewarding. 
Why Northwestern? 
There are lot of reasons why I chose Northwestern, but one of the main ones was how collaborative the environment is here, both among the graduate student population and between research groups. I also was particularly excited about the variety of computational groups here at Northwestern. But perhaps most importantly, I was (and still am) impressed by the faculty in the Chemical & Biological Engineering department. They are fantastic researchers, of course, but they also are downright amazing people. It is perhaps cliché, but that makes all the difference in the day-to-day life of a graduate student. 
What books are on your bedside table? 
I don't have any books on my beside table, but I'm going to go full-nerd and say that if I did, it'd probably be Transport Phenomena by Bird, Stewart, and Lightfoot – the quintessential chemical engineering text that got me really excited about the field. 
What did you originally want to be when you grew up? 
I am not sure I ever really had any idea what I wanted to be when I grew up—I always just hoped it would be something I enjoy and that eventually I would figure it out. I definitely enjoy what I'm doing now, although I don't know that I will ever be able to say that I have it all figured out! 
What are you most proud of during your time at Northwestern? 
In my first year at Northwestern, I was assigned to be a teaching assistant for the undergraduate-level chemical separations class. This was a class I really struggled a lot with during my undergraduate studies (to no fault of my wonderful professor at the time, I should add). With this being my first teaching experience, I was pretty nervous about it, but in the end, I was able to take advantage of my prior struggles as an undergraduate to pre-emptively address many of the more confusing areas for my students. Looking back, I am proud of the positive impact I was able to have on my students and was really honored to have received the Chemical & Biological Engineering department's George Thodos Teaching Assistant Award for my efforts in this course. That was one of the most validating and rewarding experiences of my early graduate school career. 
Published: May 4, 2021 
If you know a graduate student, postdoctoral trainee, graduate faculty member, staff member, or a member of our TGS alumni population who would make a great candidate for our TGS Spotlight Series, please complete this brief TGS Spotlight Series Nomination Form.