Graduate Student Appreciation Week 2021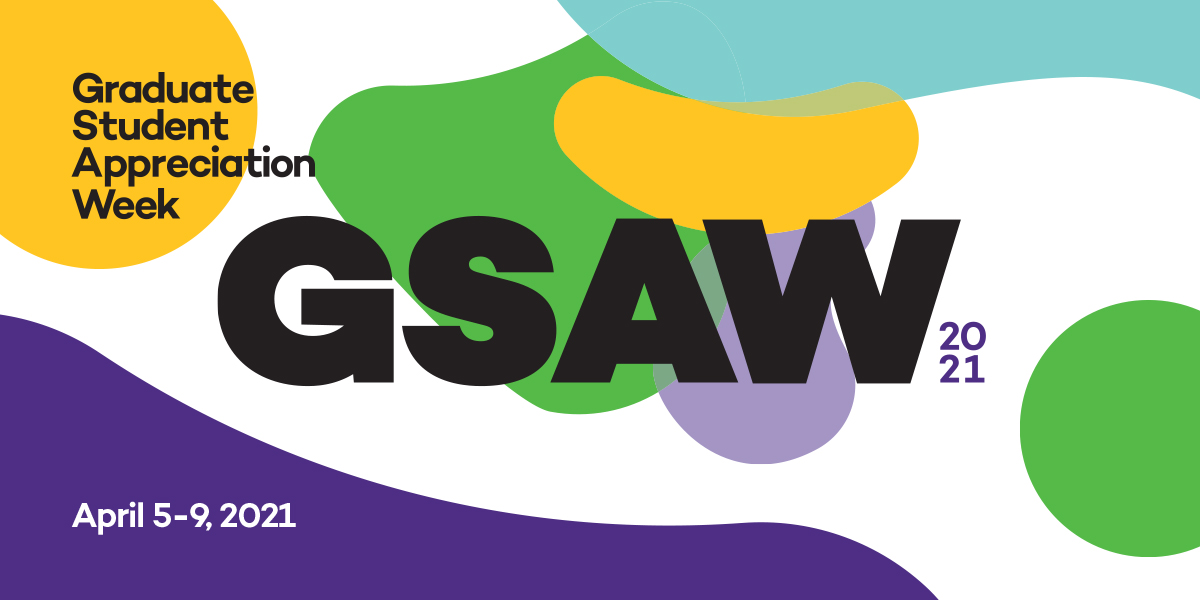 Graduate Student Appreciation Week (GSAW) 2021 will take place from Monday, April 5 – Friday, April 9, 2021 and provides a terrific opportunity to celebrate and recognize PhD and master's students in The Graduate School (TGS)! Below is a comprehensive list of GSAW events and giveaways that are free and open to all TGS students courtesy of the graduate student organizations and campus partners listed below.

Click here to download a PDF of all GSAW 2021 events. 

To help celebrate GSAW 2021, we also have created some optional Zoom backgrounds.


---
Daily (April 5-9)

Northwestern Sweatshirt Giveaway Raffle

Presented by The Graduate School (TGS)

To celebrate GSAW 2021, TGS is giving away 50 Northwestern Champion® sweatshirts from Norris Bookstore in partnership with the Office of Equity, English Language Programs, and Northwestern Alumni Association. 
To enter the daily raffle, please complete this form by 11:59 PM on Thursday, April 8. You only need to submit one entry to be considered for each daily giveaway. Please submit your entry by Friday, April 2 to increase your chances of winning.
During April 5-9, TGS will announce 10 winners around noon each day on our social media (Facebook, Twitter, and Instagram) as well as notify them by email. Winners will be able to choose one of four sweatshirt options and their preferred size from the Norris Bookstore website. Limit one sweatshirt prize per student.


Appreciating the NU Community
Presented by the Graduate Student Association (GSA)

Northwestern would not be the same without its amazing graduate student community. Nominate a graduate student friend by Friday, April 9 to show that you appreciate them for the chance to win a free dinner for both of you. GSA also will raffle off some Northwestern swag! Two pairs of winners will be selected for the free meals (up to $30 per person), which will be distributed on a reimbursement basis. Winners will be contacted by GSA by Monday, April 12. 

Social Media Raffle
Presented by the Graduate Student Association (GSA)

Follow GSA on Twitter, Instagram and Facebook and like their posts about GSAW for the chance to win prizes, such as Northwestern swag and free meals on a reimbursement basis! Participants do not need to follow or like all of their social media accounts as winners will be chosen from each social media platform. GSAW posts will begin on Monday, April 5. All students that like the GSAW posts and follow GSA by Friday, April 9 will be automatically entered into this raffle. Winners will be contacted by GSA.

Green Home Certification
Presented by the sustainNU

You can be green and save green with the Green Home Certification program by sustainNU! A simple checklist provides you with the resources and knowledge to make your space greener and healthier. In no time, you'll be on your way to saving money, brightening your physical space, and fostering positive well-being at home.
Certify your home or apartment with your roommates, family, or on your own. In honor of Graduate Student Appreciation Week, three lucky participants will receive a prize for reducing their personal impact when completing the activity by April 30. Start at Green Home Certification where you can download the checklist and submit your certification survey. You'll get a certificate to confirm your Green Home status and the opportunity to be entered into the raffle!
All graduate students are eligible to participate in this program.
---
Monday, April 5

Kickstart Your Week with Free Caffeine
Presented by the Graduate Student Association (GSA)

GSA is kickstarting GSAW by providing a free coffee (or beverage of choice) and pastry to 75 graduate students! Sign up for the chance to win a free voucher to Coffee Lab in Evanston and Sol Cafe in Rogers Park by Monday, March 29. Submitting this form does not guarantee you will receive a free voucher. GSA will contact winners by Wednesday, March 31. Please note this drawing is for carry-out orders only.
Experience Northwestern: Garfield Park Conservatory (Virtual Tour)
12:00–12:30 PM CDT
Presented by The Graduate School (TGS)
As part of the Experience Northwestern series and in celebration of GSAW 2021, The Graduate School invites TGS students to attend a virtual tour of Garfield Park Conservatory called "Sugar from the Sun" on Monday, April 5 at 12:00 PM CDT. A staff member from the conservatory will lead this 30-minute tour and provide information about the plants and their care, as well as some conservatory history. This event is limited to the first 100 TGS students who sign up, and the registration closes at 11:59 PM on Sunday, April 4.
REGISTER FOR "SUGAR FROM THE SUN"
Virtual Pilates Yoga Fusion Class
6:30–7:00 PM CDT
Presented by NU Recreation
This virtual class combines Pilates and yoga practices with a strong focus on core strength, stability, flexibility, and breath. These two movement styles complement each other to provide a total mind/body experience. All levels are welcome.
REGISTER FOR PILATES YOGA FUSION
An Evening of Personal Testimonies: Transforming Your Turning Points
6:00 PM CDT
Presented by Center for Leadership (CFL)

Join us for a roundtable conversation with Leadership Fellows at the Center for Leadership. These Fellows come from different backgrounds and sectors of the University and have inspiring stories to share about their own leadership journeys. You will walk away more informed about the connection between one's "crucible moments" and personal leadership style. The aim is that you will be able to identify your own principal challenges and discover how you can translate them into lessons in leadership. The session will include a raffle to earn three personal coaching sessions with an Executive Coach from the CFL.
REGISTER FOR TRANSFORMING YOUR TURNING POINTS
---
Tuesday, April 6

Library Workflow Refresher: Essential Services and Collections
10:30 AM CDT
Presented by Northwestern University Libraries
This session will provide a broad overview of key resources and services needed to discover, request, and acquire articles, books, and other resources needed during your graduate studies. Bring your questions and gain some valuable and personalized advice on research resources and systems.
Zoom link for ESSENTIAL SERVICES AND COLLECTIONS

Grad Grab Bags
11:00 AM

–3:00 PM CDT

Presented by Norris Center
Norris Center is offering "Grad Bags" to celebrate GSAW 2021. Pick up a bag of snacks and fun items at Dittmar Gallery (located on the first floor in Norris Center) between 11:00 AM and 3:00 PM CDT (or until supplies run out). 
REGISTER FOR YOUR GRAD GRAB BAG

GSAW Career Development Speaker: Maren Wood, PhD – Founder of Beyond the Professoriate
12:00

–

1:15 PM CDT
Presented by Northwestern Career Advancement (NCA) and TGS
Join Beyond the Professoriate founder, L. Maren Wood, PhD, on Tuesday, April 6 at 12:00 CDT, for a webinar about reframing your graduate school experience for the professional job search. After attending this webinar, you will be able to describe the different needs of academic and non-academic hiring committees and managers, and understand how these differences require you to reframe your experience; identify the key skills and traits that employers look for in job candidates; and recognize the language that is used in job ads to describe skills, projects, tasks, and responsibilities. 
REGISTER FOR BEYOND THE PROFESSORIATE

Virtual Writing Retreat
1:00

–5:00 PM CDT

Presented by Graduate Writing Place
To mark GSAW 2021, the Graduate Writing Place is hosting a special Writing Retreat or virtual co-working session. The goal of Writing Retreats is to provide regular opportunities throughout the quarter for graduate students to write together. During each four-hour retreat, writers work in the main room, keeping mics muted and/or cameras off and using the chat feature to share goals, ask and answer questions, and check in with each other. Retreats also feature two breakout rooms for conversation ("The Break Room") and for collaboration ("The Workshop"). All graduate students are welcome to drop in at any point during Writing Retreats, but registration with Eventbrite is required.
REGISTER FOR THE VIRTUAL WRITING RETREAT

Virtually Guided Meditation
4:30 PM–5:00 PM CDT
Presented by Chicago Graduate Student Association (CGSA) and Counseling and Psychological Services (CAPS)
The events of the last year have taken a toll on all of our capacities for coping and resilience. Meditation is a simple yet highly effective tool for calming the mind, enhancing energy and focus, and boosting emotional positivity. CGSA is partnering with CAPS to provide an opportunity to learn and practice meditations that help manage stress and improve overall well-being. Join us for a virtual 30-minute meditation session with Dr. Sean Serluco, who will briefly introduce mindfulness/meditation and lead two 10-15 minute guided meditations!
Zoom link FOR GUIDED MEDITATION

Virtual Zumba Class
5:30

–6:00 PM CDT

Presented by NU Recreation
Celebrate GSAW 2021 through a fusion of Latin and international dance themes! Movement intervals and easy-to-follow dance steps create a dynamic, fun, and effective workout. All levels are welcome.
---
Wednesday, April 7

Virtual Language Table: Giving and Receiving Praise and Appreciation
12:00–1:00 PM CDT
Presented by English Language Programs (ELP)

Join us for a virtual discussion on the topic of giving and receiving praise and appreciation. Our Language Table series, Something to Talk About, offers a chance to meet other people through fun, informal activities, and casual conversation. Each event highlights a specific aspect of language and/or American culture. Attendees can ask questions and share experiences and opinions with peers and ELP staff in a supportive environment for speakers at any level of English proficiency.
REGISTER FOR THE VIRTUAL LANGUAGE TABLE

Virtual Body Pump Class
12:30–1:00 PM CDT
Presented by NU Recreation
This barbell workout is ideal for anyone looking to get lean, toned, and fit! Using light to moderate weights with lots of repetition, this is a total body workout. Instructors coach you through scientifically proven movements and techniques while pumping out encouragement, motivation, and great music. For this workout, you can use any type of dumbbell, weight plate, or kettlebell. All levels are welcome.

REGISTER FOR THE BODY PUMP CLASS

Kid-Friendly Event: Science and Stories - A Magnificent Combination
4:00–4:30 PM CDT
Presented by Graduate Student Association (GSA), Black Graduate Student Association (BGSA), and Northwestern Alumni Association (NAA)
Do you have a child that enjoys science and adventure? Join Theanne Griffith '15 PhD, a neuroscientist and children's book series author, during this kid-friendly, fun, and virtual event hosted as part of GSAW 2021! Dr. Griffith will be reading an excerpt from The Magnificent Makers: Riding Sound Waves and conduct some science demos. While the book series is aimed at children 7-10, all ages are encouraged to participate. This event is open to the entire Northwestern community. In conjunction with this event, GSA will be raffling off free e-books to 20 graduate students. For a chance to win, please complete this form by 5:00 PM CDT on Friday, April 2. 
REGISTER FOR SCIENCES AND STORIES - A MAGNIFICENT COMBINATION

CGSA Virtual Trivia Night

6:30 PM CDT
Presented by the Chicago Graduate Student Association (CGSA)
Join CGSA for Trivia Night and test your knowledge on a wide variety of topics. Teams will consist of 6 people. Form your team ahead of time, or join individually and we will set up the teams before we begin. CGSA will raffle off gift cards throughout the event!
Zoom link FOR VIRTUAL TRIVIA NIGHT
---
Thursday, April 8

Virtual Breathe Class
12:00–12:45 PM CDT
Presented by NU Recreation
Learn how to reduce stress and improve your overall well-being through breath with Cindy Conlon. This class is designed to do just that. Learn what it means to breathe properly and how to identify dysfunctional breathing patterns. "If I had to limit my advice on healthier living to just one tip, it would be simply to learn how to breathe better." - Dr. Andrew Weil
Zoom link FOR VIRTUAL BREATHe CLASS

Virtual Civic Engagement Consultations
12:00–5:00 PM CDT
Presented by Center for Civic Engagement
The Center for Civic Engagement's postdoctoral fellow, Ruth Curry, is offering 20-minute virtual consultations to graduate students interested in developing a relationship with a Chicago-area nonprofit. Whether you are looking for a volunteer opportunity, internship, or to seed a research or artistic collaboration, you will walk away with a list of organizations tailored to your interests and be entered in a raffle to win a copy of We Do This 'Til We Free Us by Mariame Kaba. The Center for Civic Engagement maintains relationships with hundreds of local organizations and has placed more than 130 PhD students at 90+ nonprofits and governmental agencies through their practicum programs.
REGISTER FOR VIRTUAL CIVIC ENGAGEMENT CONSULTATIONS

Grads + The Women's Center
4:00 PM CDT
Presented by the Women's Center
Learn how the Women's Center serves graduate students in a quick and casual conversation with our program manager and the folks who run the Graduate Women of Color peer group, serve on the Women's Center Student Advisory Board, and are organizing forthcoming Grads with Kids meetups. We will also have some Women's Center giveaways!
REGISTER FOR GRADS + THE WOMEN'S CENTER

Virtual Drag Bingo with Host Alexis Bevels
6:00–8:00 PM CDT
Presented by TGS
In celebration of GSAW 2021, TGS presents a virtual Drag Bingo event with Chicago-based queen Alexis Bevels on Thursday, April 8 at 6:00 PM CDT. Winners of each round will receive a swag pack with a backpack, water bottle, and journal from TGS.
REGISTER FOR VIRTUAL DRAG BINGO 
---
Friday, April 9

Virtual Art Session
5:00 PM CDT
Presented by Norris Center
Norris Center presents a virtual art activity for GSAW 2021 called Fetch A Sketch. Have fun sketching with compressed charcoals on artboards. Learn basic drawing techniques while rendering a black and white masterpiece! Supplies included (artboard, multimedia paper, compressed charcoals, eraser, stump). To participate, pick up an art pack in ARTica (located inside Norris Center) beginning Tuesday, April 6 while supplies last. A Zoom link will be included in your art pack.

Virtual Mindful Yoga Class
5:30–6:00 PM CDT
Presented by NU Recreation
The pace of the class is moderate, with poses ascending in complexity. A meditative, mindful approach is emphasized in all postures to develop greater internal awareness. This class is well suited for those with a yoga foundation, but all levels are welcome.
REGISTER FOR VIRTUAL MINDFUL YOGA CLASS

Virtual Escape Room
7:00 PM CDT
Presented by the Graduate Student Association (GSA)
Join GSA in celebrating the end of GSAW 2021 in our Virtual Escape Room! Teams of 6 people will work together to solve puzzles, clues, and riddles to "beat the room". Teams will race against each other and the one-hour clock to solve the series of puzzles. Spots are limited, so make sure to RSVP by Tuesday, April 6 for a chance to play. You can join a pre-made team or sign-up for a random team for the chance to meet new graduate students!
Register for Virtual Escape Room



---
  Giveaway          Professional Development          Social          Wellness
Categories: Around Campus