2022 Edward A. Bouchet Graduate Honor Society Inductees
The Office of Diversity and Inclusion is proud to announce the 2022 Northwestern University inductees for the Edward A. Bouchet Graduate Honor Society. Please join us in congratulating this year's inductees: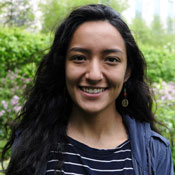 Monica Gallegos-Garcia
PhD candidate
Physics and Astronomy

Monica's research focuses on the evolution of binary star systems and the interactions that lead to compact object mergers, such as binary-black-hole and binary-neutron-star mergers. She received her BS in physics from the University of California, Santa Cruz where she was awarded the Dean's Undergraduate Award for her senior thesis. In 2019 Monica received the Ford Foundation Predoctoral Fellowship, which recognizes both scholarship and commitment to communities historically excluded in the academy. She aspires to continue to support her peers and community through mentoring, access to STEM, and cultivating supportive communities.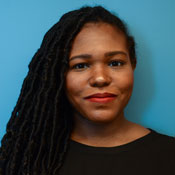 Chelsea Peterson-Salahuddin
PhD candidate
Media, Technology, and Society
Chelsea's research focuses on the culturally specific ways historically marginalized communities, most often Black women, femmes, and queer folks, engage with mass and digital communications technologies to seek information, produce knowledge, and build community. She engages in community-based research, partnering with BIPOC-led organizations across Chicago to offer new approaches to media and communication industries. Chelsea's research has been published in top peer-reviewed communications journals, including Critical Studies in Media Communication, Media and Communication, Social Media + Society, and New Media & Society. She hopes to create new pathways to equity for these communities through critiquing and influencing the design of communications technologies, communication and media industries, and technology policy.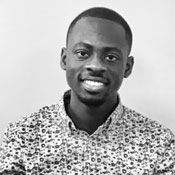 Bright Gyamfi
PhD candidate
History
Prior to attending Northwestern, Gyamfi received a BA from the University of Notre Dame with honors where he majored in history and political science. After his undergraduate studies, he was awarded the Thomas J. McMahon IV Endowment for Excellence for the Pursuit of Scholarship at the University of Oxford where he earned an MSc in African studies. His dissertation examines Ghanaian intellectuals who transformed and radicalized the study of Africa in academic and intellectual centers around the Atlantic. More broadly, his work focuses on West African and African Diaspora intellectual history, nationalism, Pan-Africanism, Black Internationalism, and economic development. Gyamfi's research has been supported by the Social Science Research Council, the Fulbright-IIE, and several competitive grants from Northwestern. In 2019, Gyamfi was named the winner of the Ghana Studies Association's Conference Paper Prize for Emerging Scholars. His work has appeared in the African Studies Review, the Journal of African American History, The Conversation, and Africasacountry.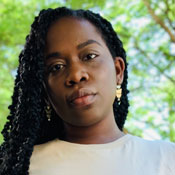 Andrea Y. Adomako
PhD candidate
African American Studies
Andrea is a Mellon Cluster Fellow in Gender and Sexuality Studies and a Presidential Fellow at Northwestern University. Transnational in scope and drawing on feminist and literary criticism, her interdisciplinary research examines figures and texts from the United States and Ghana to contextualize the labor of Black girlhood friendship as both a political commitment and an intellectual practice. In revisiting literature between 1969 and 1976—which represents the height of the Black Arts Movement and Pan-African literary renaissance— Andrea examines texts by Maya Angelou, Efua Sutherland, Toni Morrison, James Baldwin, and Ama Ata Aidoo. These authors are connected through their diasporic friendships and authorial insistence on communicating ideas about violence and intimacy through Black girlhood. Through archival work and literary analysis, Andrea considers how friendship can become a protocol for grappling with moments of differentiation, power, and harm. Her article, "'First Wave' Friendships: Ann Plato and Black Feminist Praxis" received the inaugural 2021 National Women's Studies Association/Feminist Formations Paper Award, forthcoming in Feminist Formations. Working with youth organizations such as the Chicago Freedom School and the Akoma Institute, Andrea is committed to liberatory education and developing collective strategies for social change. She holds a BA in Africana studies and human rights from Barnard College, as well as an MA in American studies from Purdue University.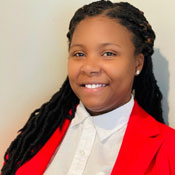 Nakisha Rutledge
PhD candidate
Driskill Graduate Program in Life Sciences
Nakisha's research focuses on characterizing the role of adhesion molecules, specifically CD99 Like-2, in leukocyte recruitment during inflammation. She received her BS in biochemistry from Spelman College, where she was a Spelman STEM Scholar and MBRS-RISE Scholar. Nakisha has been a constant force within the scientific community where her ultimate goal is to promote diversity and create safe spaces for scholars of color. While at Northwestern University, Nakisha has served as the chair of outreach for Chicago Graduate Student Association (CGSA) and the Alliance of Chicago Minority Students (ACMS). She has been essential in advocating for student parents and serving students on campus. Her commitment to serve extends far beyond the Northwestern community. She serves in several positions of leadership for the American Society for Investigative Pathology (ASIP), where she helps build community and put on workshops for minorities in STEM. Additionally, she designs and executes programming for youth in the Chicagoland area through her leadership in M.E.A.N Girls Empowerment. Ultimately, Nakisha aims to dedicate her life to advocating for scholars of color within STEM while also improving the field of medicine through her research.   
About the Society
The purpose of the Edward A. Bouchet Society is to recognize outstanding scholarly achievement and promote diversity and excellence in doctoral education and the professoriate. The Bouchet Society seeks to develop a network of scholars who exemplify academic and personal excellence and serve as examples of scholarship, leadership, character, service, and advocacy for students who have been traditionally underrepresented in the academy. In the spirit of Edward Alexander Bouchet and the scholarship, leadership, character, service, and advocacy he exhibited, inductees into the Bouchet Society must exhibit these same outstanding qualities. The Northwestern University Society is committed to intellectual excellence and interdisciplinary work, with the additional goal of using this knowledge in the service of society.